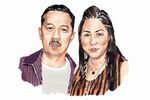 To understand how Carol Lim and Humberto Leon have made Kenzo SA, a Paris-based luxury brand, into a popular phenomenon, you need to know that neither is a trained designer. "We were both really avid readers of magazines" as teenagers, Lim says. "As we listened to our favorite bands, we would see what they were wearing, where they would go eat." They've used this voracious sensibility to build an utterly hip retail empire out of a brand that until about six years ago was known only to fashion's most inside insiders—and in the process opened the stuffy world of high fashion to young, streetwise consumers.
Both grew up in Los Angeles as first-generation Americans—Lim's family is from South Korea, Leon's from China and Peru. They met as undergraduates at UC Berkeley and have been professional partners since. Their first project was Opening Ceremony, the cult boutique started in 2002 by gathering together items from a variety of designers. It soon expanded to seven influential stores in New York, L.A., and Tokyo.
In 2011 luxury conglomerate LVMH Moët Hennessy Louis Vuitton SE hired the duo to lead Kenzo, then known for elegant pieces in fine fabrics and mixed prints. The label's corporate parents were initially skeptical when Lim and Leon included Kenzo logo sweatshirts in their first collection. Since then, the average age of the Kenzo customer has dropped from over 50 to under 30, and the brand is adding 22 stores this year, including ones in Paris, Seoul, and Madrid, with further expansions across Asia and Europe planned for next year.
Lim and Leon may not have fashion training, but they're deeply involved in Kenzo's design process. "We explore ideas by drawing and draping, and I work with my design team to push silhouettes, shapes, and lines," Leon says. "It's a lengthy process that goes from start to finish," often ending in some kind of collaborative project with a filmmaker, avant-garde artist, or musician to bring the collections to life. Says Eva Chen, head of fashion partnerships at Instagram Inc.: "They add an element of surprise and delight to everything they do that is fantastic."
Above all, they're committed to resisting fashion's exclusive side. "We have always felt that clothing should be democratic," Leon says. "We feel that you can have an expressive fashion show and find a piece that you can wear to a barbecue or to a family reunion. It's just the way we think." Says Lim: "We're constantly looking to see how we can differentiate ourselves in a way that will surprise and delight and resonate and stay with you." And make you want to buy clothes.
Before it's here, it's on the Bloomberg Terminal.
LEARN MORE