Thailand Sees Strong Growth Next Year as GDP Beats Forecasts
By
Economy seen expanding 3.6 percent to 4.6 percent next year

Central banks will need to guard against inflation risks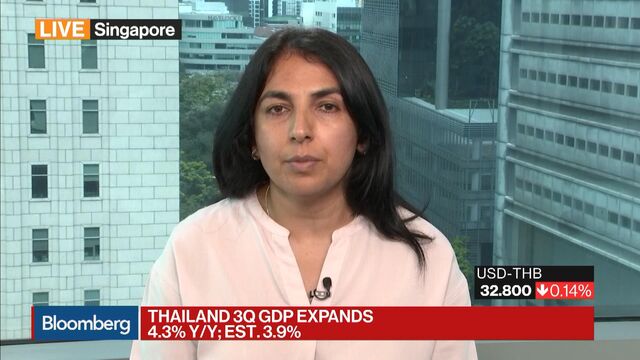 Thailand's economy grew faster than economists estimated last quarter and is on track for a strong year in 2018, underpinned by a pick-up in exports and booming tourism.
Highlights of the GDP report
Gross domestic product rose 4.3 percent from a year ago, compared with the median estimate of 3.9 percent in a Bloomberg survey of economists
Compared with the previous three months, GDP rose a seasonally adjusted 1 percent in the third quarter, higher than the 0.7 percent median estimate
After years of lagging its neighbors, Thailand's economy is finally catching up with the economic boom in Southeast Asia, fueled by a global trade recovery and a flood of visitors from China. The end of a yearlong mourning period for King Bhumibol Adulyadej strengthens the outlook for consumer spending into next year, while the government is ramping up spending on infrastructure projects to support growth.

The statistics agency said the economy will probably expand 3.9 percent for the whole of 2017, and 3.6 percent to 4.6 percent next year, supported by export growth of 5 percent.
"Economic growth next year will accelerate from this year," Porametee Vimolsiri, secretary general of the statistics agency, or National Economic and Social Development Board, told reporters in Bangkok. "We may see 4 percent level, supported by an improving global economy, government investment and a clearer recovery of private investment. We will see improving employment and revenue."
Prime Minister Prayuth Chan-Ocha has adopted measures to boost growth, including a 1.5 trillion baht ($46 billion) infrastructure spending plan, and tax breaks for year-end shopping. Thailand -- under military rule since 2014 -- is on course for elections next year.
"Growth is broadening with exports and tourism still doing the heavy lifting," said Eugenia Victorino, an economist at Australia & New Zealand Banking Group Ltd. in Singapore. "Our 2017 GDP growth forecast of 3.5 percent now looks light and we will be revising it to reflect the endurance of the export recovery."
Rate Hike?
Thailand's growth last quarter was supported by a 4.3 percent jump in manufacturing, a 6.7 percent expansion in hotels and restaurants, and an 8.1 percent increase in the transport and storage industries. Private consumption growth remained muted at 3.1 percent compared with 3 percent expansion in the second quarter, while investment rose 1.2 percent.
The response by financial markets to the data was also subdued, with the benchmark stock index rising 0.2 percent as of 12 p.m. in Bangkok on Monday. Julian Wee, a senior market strategist in Singapore at National Australia Bank Ltd., said the GDP data showed "domestic demand might still be quite tepid" and investment showed "little sign of revival."
What Our Economists Say
Tamara Henderson: The pickup in 3Q growth was broad-based and growth has scope to be stronger still in 4Q with the end of the mourning period in October. Even so, the risk of Bank of Thailand tightening appears low. Drivers of growth for this year -- especially better weather for farmers, new direct flights with China and the relocation of supply chains -- may fade. At the same time, wages are falling, debt burdens for households and firms are elevated, NPLs have increased and investment remains weak. Year-on-year growth rates for household spending and investment in 3Q were also not as strong as 1Q.
Southeast Asian nations are enjoying a growth resurgence with expansion in Vietnam, the Philippines and Malaysia quickening. At the same time, it's raising worries about inflation and questions about whether central banks in the region will need to tighten monetary policy soon. The Bank of Thailand has held its benchmark rate near a record low since 2015.
Porametee, who is also a member of the central bank's Monetary Policy Committee, played down any talk of rate hikes yet.
"Fiscal and monetary policies will remain accommodative to ensure macro conditions are stable," he said. "There is no need to rush on raising interest rates."
— With assistance by Ditas B Lopez, Natnicha Chuwiruch, Michelle Jamrisko, and Lilian Karunungan
Quotes from this Article
Before it's here, it's on the Bloomberg Terminal.
LEARN MORE