Johnson Says He's 'Encouraged' on Taxes But Slams 'Awful Process'
By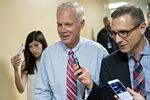 Senator Ron Johnson -- the first GOP senator to voice opposition to the current tax plan -- said he's encouraged that Republican leaders have been discussing his concerns that pass-through businesses would be treated unfairly.
"I'm encouraged by the information and the cooperation I'm getting right now" from the tax-writing Senate Finance Committee, Wisconsin's Johnson said Monday during an interview with Milwaukee-based WISN radio. He added that he was responsible for bringing the issue of pass-throughs getting less of a benefit than corporations to the forefront of the debate.
The Senate plan would slash the corporate tax rate to 20 percent from 35 percent. But the rate for partnerships, sole proprietorships and other pass-through firms would be set by a formula -- with rates higher than 30 percent for some.
The Senate Finance Committee approved the tax plan last week, and the package is scheduled to head to the Senate floor for a vote as soon as the week of Nov. 27. Many expect Johnson to vote "yes" in the end. During negotiations to repeal and replace Obamacare, Johnson was an early dissenter before ultimately supporting the effort.
The Wisconsin lawmaker also reiterated his frustrations with the speed of the proceedings. During the interview, he slammed what he called an "awful rushed process, a desperation to pass anything," saying it's "not the best way to pass something that's going to affect so many peoples' lives."
"I would prefer that this bill would've been introduced months ago," Johnson said. "I'm not happy with the rush-rush process on this."
Still he added: "But I understand the political reality because we've waited so long."
Before it's here, it's on the Bloomberg Terminal.
LEARN MORE