Puerto Rico to Pay Christmas Bonuses Despite Storm's Toll
By and
Island law requires businesses, government to pay bonuses

The perk became a point of conflict in fight over austerity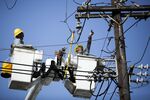 Puerto Rico's bankruptcy and the crippling blow of Hurricane Maria won't deprive the government's employees of their Christmas bonuses. 
Governor Ricardo Rossello said Monday that he would cover the payments, despite the financial strains that have been made even more severe since the September storm that caused much of the economy to grind to a halt. Both the government and businesses are required to pay such bonuses under a decades-old Puerto Rican law, providing a year-end boost that workers have come to rely upon.
"Our public employees have done an admirable job for the recovery of the island," Rossello said in a statement. "Without them the job would be impossible, and we should make good on their Christmas bonus on time."
The total bonus payments to employees and the retirees will be about $113 million and are already included in the government's budget, according to an email from Rossello's spokeswoman, Yennifer Alvarez. She said the average bonus for 105,000 employees will be about $600 each, and 141,000 retirees will be paid about $200 each.
The bonuses became a source of conflict between Rossello and the island's federal oversight board earlier this year, when the panel pressed the governor to end the practice if he couldn't cut spending elsewhere to cover the cost. When the governor ignored the recommendation, the board sued, only to withdraw the suit after the hurricane so that legal fighting wouldn't distract from recovery efforts.
That storm has aggravated the crisis that tipped Puerto Rico into a record-setting bankruptcy this year. With its electricity grid devastated and tax collections drying up, Rossello asked the federal government for $94 billion in aid. A lawyer for the oversight board has said Puerto Rico -- already in default on a growing share of its $74 billion of debt -- may need to suspend bond payments for five years.
Before it's here, it's on the Bloomberg Terminal.
LEARN MORE