New Jersey Governor-Elect Murphy Calls for $15 Minimum Wage
By
Democrats tried for years, only to meet veto by Christie

Initiative in high-cost state has backing from labor groups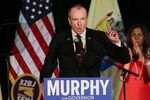 Governor-elect Phil Murphy said a top priority is almost doubling New Jersey's minimum wage to $15 an hour, with support from fellow Democrats who control the legislature.
Governor Chris Christie, a Republican, vetoed the initiative in August 2016, calling it a "significant step backward on the road to economic recovery." But Murphy said it's a matter of good economics and justice.
A higher wage is immediately spent, said Murphy, who will take office in January.
"Not only are you fairer but you're also going a long way toward strengthening the economy," he said at a news conference in Trenton. "This is as high on the priority list as anything we've got."
The current minimum, $8.44, is among the highest in the U.S. and will rise to $8.60 in January as a result of a constitutional amendment approved by New Jersey voters in 2013. Washington, D.C., will reach $15 in 2020 and California in 2022.
An increase in New Jersey has backing from labor unions and groups advocating progressive policy as a boost for low earners in a state with high living expenses. It's opposed by small-business owners.
Murphy, a retired Goldman Sachs Group Inc. senior director and former U.S. ambassador to Germany, defeated Republican Lieutenant Governor Kim Guadagno by 13 percentage points this month. He has promised to institute a millionaire's tax and legalize and tax recreational marijuana to help raise $1.3 billion in revenue.
Before it's here, it's on the Bloomberg Terminal.
LEARN MORE