Merkel Says She'd Rather Face Voters Than Risk an Unstable Germany
By , , and
Chancellor is skeptical about governing without majority

EU's dominant leader picks up pieces after coalition failure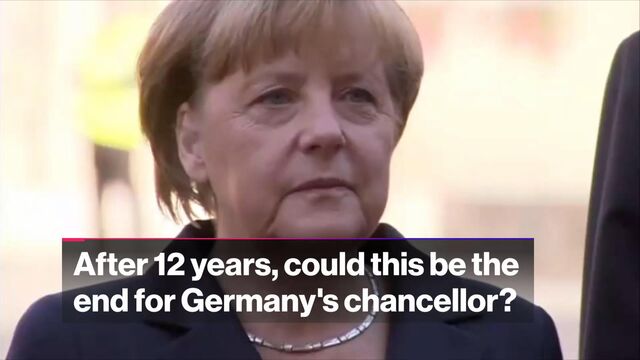 German Chancellor Angela Merkel said she'd rather face new elections than govern without a majority, betting that voters won't blame her after four-party talks on forming a coalition collapsed.
Stung by the sudden breakdown, Merkel turned to President Frank-Walter Steinmeier and her Christian Democratic Union officials to find a way forward. Steinmeier told reporters after their meeting in Berlin that he's urging all parties to return to the negotiating table and avoid a new election, calling the stalemate unprecedented in recent history.
"A minority government isn't part of my plans," Merkel said Monday in comments to broadcaster ARD. "I'm certain that new elections are the better way."

Seeking to unlock her fourth term after 12 years in office, the 63-year-old chancellor used two prime-time national television interviews to convey her message that Europe's biggest economy and dominant country remains low-risk. "My goal remains to form a stable government," she told ZDF television. "Good procedures are in place."
Disputes among a grab-bag of disparate parties over migration and other issues led the Free Democrats to walk out of the talks late Sunday. The CDU's worst electoral result since World War II in September was still enough to hand Merkel another term, but the lack of a clear mandate raised the possibility that she might try to govern with shifting alliances in parliament.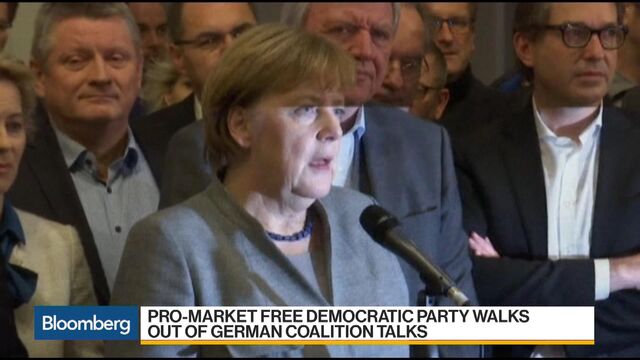 The president typically plays a mostly ceremonial role in German politics, acting as head of state but without real power. Amid the current deadlock though, Steinmeier will be a key figure, prodding parties toward a coalition or engineering a minority government. If those efforts fail, it'll be up to him to call new elections.
"Everyone involved should pause again and rethink their positions," Steinmeier said. "I expect everyone to be willing to talk to make it possible to form a government in the foreseeable future. Those who seek political responsibility in elections must not be allowed to shy away from it when they hold it in their hands."
Social Democrats?
The Social Democrats, the junior partner in Merkel's last government, won't join another coalition with the CDU, even if Merkel herself steps aside, leader Martin Schulz said Monday, repeating a position his party has stuck to since the September vote. Merkel suggested in her TV interviews that the SPD, which she called "a proud party," reconsider its stance.
A Forsa poll conducted Monday suggested that if an election were held now, the outcome would be little different than in September, meaning Merkel would be left facing the same coalition options.
Investors shrugged off the disarray, with both the euro and Germany's DAX stock index rebounding from earlier losses. Still, the political uncertainty surrounding the European Union's most powerful leader should be a wake-up call, according to Carsten Brzeski, chief economist at ING-Bank AG.
"Europe has lost another illusion: Germany is no longer the role model of political stability," Brzeski said.
Germany's influential DIHK chamber of industry and commerce, a business lobby, called on political leaders to set aside ideological differences and think pragmatically. "We need a stable government" and "bold decisions" for Germany's economic future, DIHK head Eric Schweitzer said on the group's website.

Merkel's biggest setback since she first won the chancellorship in 2005 follows unusually contentious exploratory talks. Policy divides over immigration, climate and energy proved so wide that even Merkel, once dubbed "the queen of the backrooms," couldn't bridge them.
Disagreements over limiting migration dogged the talks from the start. It's a measure of the fallout from the election, which saw the anti-immigration Alternative for Germany, or AfD, enter parliament with 12.6 percent.
Read more: German Far-Right AfD Is in Parliament. Now What?
Many former voters of the CDU and its Bavarian CSU sister party switched allegiance to the AfD, which ran against the establishment in general and Merkel's asylum policy in particular. Her bloc's electoral tally tumbled to 32.9 percent, its worst performance since 1949.
During the campaign, the chancellor defended her support for open borders during the refugee crisis in 2015 and 2016, saying allowing about a million asylum seekers into Germany was the right thing to do.
"It was our resounding electoral success that was breathing down the negotiators' necks," AfD party leader Joerg Meuthen, who welcomed the breakdown of the talks, said on Facebook on Monday.
— With assistance by Chad Thomas, and Brian Parkin
Before it's here, it's on the Bloomberg Terminal.
LEARN MORE