Merkel's Coalition Failure Is Bad News for May
By and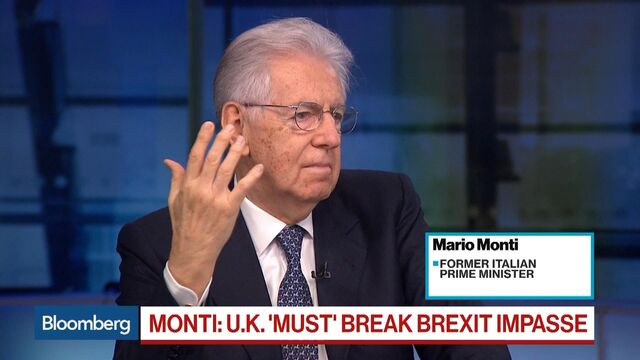 Angela Merkel's failure to form a government is bad news for Theresa May.
While the theory proposed by some Brexit-backers that the German chancellor would ride to Britain's rescue was always fantasy, Merkel has been an ally to May all the same. She is said to be wary of pushing the prime minister too hard for fear it would topple the British government. At a summit last month Merkel had the kindest words of all to offer May.
Diplomats in Brussels, and not just the British ones, have been saying since March that there would be no major progress on Brexit until after the German election. If the failure to pull together a coalition prompts another vote, it could be late Spring before the outcome is clear. Meanwhile, the Brexit clock keeps ticking down to exit day in March 2019.
Germany, like the rest of the EU, has handed chief negotiator Michel Barnier responsibility for the so-called Article 50 process under which the divorce will be agreed. And all parties more or less agree on the stance.
But it's the leaders who decide how talks should proceed and what messages should be sent to Britain. If Merkel was ever going to show some flexibility, her capacity to do that is now limited, particularly if she's about to fight another election. Letting Brits off the hook will not play well with voters.
"It does serve as a reminder that Berlin's priorities are elsewhere, and that does carry implications for how flexible Germany can and will be throughout this Article 50 process," said Mij Rahman, a political analyst at Eurasia Group in London.
Before it's here, it's on the Bloomberg Terminal.
LEARN MORE