Jack Lew Goes Back to Wall Street
By
Lew will focus on investing, relationships, firm management

Ex-government officials Geithner, Petraeus already in industry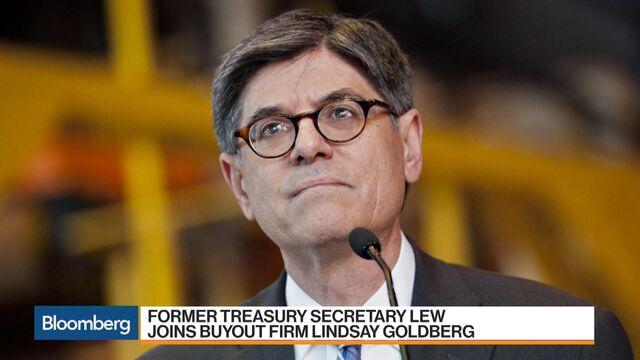 Former U.S. Treasury Secretary Jacob Lew is joining private equity firm Lindsay Goldberg, adding his name to a list of government officials settling in at buyout shops.
Lew, 62, will join the New York-based firm as a partner and focus on various investments, institutional relationships and firm management, according to a statement Monday. He served as Treasury secretary under President Barack Obama from 2013 to 2017 and was previously the White House chief of staff.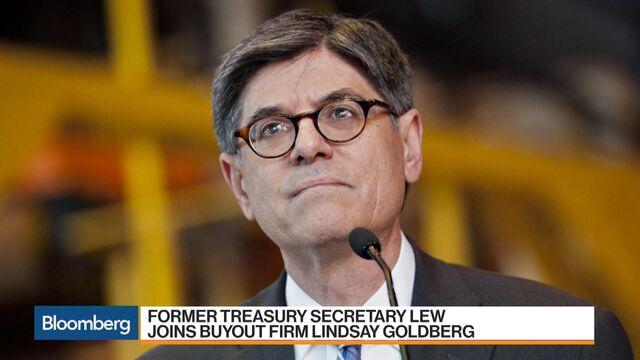 Both Treasury secretaries and a Central Intelligence Agency director under Obama now work full time in private equity. Timothy Geithner, Lew's predecessor at Treasury, became president of Warburg Pincus in 2014. General David Petraeus joined KKR & Co. in 2013 to oversee a unit that conducts macro and geopolitical research.
Executives in private equity typically receive higher pay than in government, and the firms seek to draw on former officials' relationships and experience to find new business. John Snow, who was Treasury secretary under President George W. Bush, joined Cerberus Capital Management in 2006 and serves as chairman. Cerberus also hired former U.S. Vice President Dan Quayle in 1999. Carlyle Group LP in the past employed former Defense Secretary Frank Carlucci, ex-Secretary of State James Baker and former President George H.W. Bush in various roles.
Lew's New Job Means Six of Seven Treasury Heads Got Finance Gigs
As Treasury secretary, Lew tackled tax inversions, amended sanctions on Cuba and other countries and urged Congress to take action on the mounting debt crisis in Puerto Rico. He also surveyed the public before deciding to put the face of abolitionist Harriet Tubman on the $10 bill.
"We are honored to have Jack join Lindsay Goldberg and look forward to his playing a key role across all facets of our firm," Alan Goldberg, Lindsay Goldberg's chief executive officer, said in the statement. "His reputation for integrity, along with his global perspective on business, nuanced knowledge of industry and decades of experience in senior leadership roles are unparalleled."
Before serving in Obama's administration, Lew held various roles under President Bill Clinton, including director of the Office of Management and Budget. He also was an executive at Citigroup Inc.'s global wealth management and investment divisions from 2006 to 2009.
Lindsay Goldberg focuses on investments in family-owned and founder-run businesses, according to the statement. It has invested in insurance, health-care, energy, industrial, manufacturing, distribution and consumer companies, according to its website.
Before it's here, it's on the Bloomberg Terminal.
LEARN MORE