Barnier Raises Irish Obstacle as U.K. Moves on Brexit Bill
By , , and
Up to Britain to find solution on Irish border, Barnier says

U.K.'s May meets key ministers on Brexit on Monday afternoon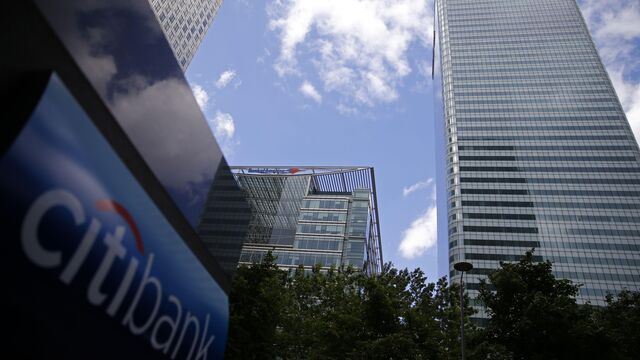 European Union chief Brexit negotiator Michel Barnier told the U.K. to come up with a solution for the Irish border, making clear that an improved offer on the divorce bill might not be enough to unblock talks.
Barnier told a conference in Brussels on Monday that Northern Ireland will require a specific solution and that it's up to "those who wanted Brexit" to come up with ideas. In comments that will rile the pro-U.K. Northern Irish party that props up Theresa May's government, he said Northern Ireland already has different rules to Britain. "Unique circumstances require specific solutions," he said.
Barnier barely mentioned the topic that has dominated the debate in the lead-up to a crunch EU summit in mid-December: the financial settlement. May is meeting with key cabinet ministers in London on Monday after Chancellor of the Exchequer Philip Hammond signaled on Sunday that the government would present an improved offer in time for the summit.
The U.K. wants to tie an agreement on the bill to the future relationship, at least in public as a way of justifying the outlay. Barnier played down the chances of that on Monday in a closed-door meeting with EU affairs ministers. The U.K. won't be able to get guarantees over a future trade deal in return for agreeing to past financial obligations, he told them, according to an EU official with knowledge of the discussion.
Irish Border
Just as some progress on the bill seems within reach, the Irish issue -- which some on the British side had thought was parked -- has come back on the agenda. Ireland essentially has a veto in this phase of talks as the border is one of the three issues that need to be resolved before the discussions move on to trade and transition.
But Ireland also wants a good trade deal, and would be the EU27 country with most to lose if the U.K. tumbled out of the EU without a deal. That would happen in March 2019 if there's no agreement beforehand.
"Some in the U.K. say that specific rules would endanger the integrity of the U.K. single market, but Northern Ireland has specific rules in many areas that are different," Barnier said.
Barnier Signals That N. Ireland Needs 'Specific' Brexit Solution
Barnier also used the clearest language yet to tell Britain that U.K.-based banks will lose access to the single market as a "legal consequence" of Brexit. Those comments, while in line with earlier EU statements, come as Brexit Secretary David Davis has been on a charm offensive with the City of London, telling banks that financial services are a high priority in the talks. The U.K. wants finance to be included in the final free-trade deal -- which would be unprecedented.
"The legal consequence of Brexit is that the U.K. financial-services providers lose their EU passport," the EU negotiator said.
EU Rules
He also signaled how tricky the trade part of talks will be, once negotiations move on from what was meant to be the easy bit. Barnier said the scope and depth of any future trade deal will depend on the U.K.'s willingness to stay close to EU rules after it leaves. The U.K. wants the best deal that's ever been struck with the EU but also wants accords with countries including the U.S., and that will affect its regulation. Trade experts say countries essentially have to choose which regulations they want to abide by, as a deal involving one set of rules could preclude agreements with countries with different standards.
"There will be no ambitious partnership without common ground in fair competition, state aid, tax dumping, food safety, social and environmental standards," Barnier said. "It is not only about rules or laws. It is about societal choices -– for health, food standards, our environment and financial stability."
Read more: Does the U.K. Want to Be More Like America? The EU Wants to Know
May's inner circle of ministers meets on Monday afternoon and the bill is expected to be on the agenda.
Britain is "on the brink of making some serious movement forward" and starting to break the "logjam," Chancellor of the Exchequer Philip Hammond told the BBC on Sunday. While Hammond is on the pro-EU end of the spectrum of ministers, his comments echo those of Davis, who last week said there would be more clarity on the bill in a few weeks.
The EU is pushing for Britain to pay at least 60 billion euros ($71 billion) to cover budgetary commitments and future liabilities such as pensions for EU civil servants. So far, May has said she will make 20 billion euros of budget payments after Brexit, and is going through the other items line by line.
Environment Secretary Michael Gove, a prominent opponent of the EU, said last week he wouldn't block May from "doing what she believed was right" on the exit bill, giving May some cover. Boris Johnson, who's said in the past that the EU can "go whistle" if it wants a huge financial settlement, has seen his influence -- and ability to block a deal -- reduced after a series of missteps as foreign secretary.
It remains to be seen how it will go down with the public, who were promised financial rewards rather than bills from Brexit.
— With assistance by Viktoria Dendrinou
Before it's here, it's on the Bloomberg Terminal.
LEARN MORE