China's Shadow Bank Clampdown Hits Stock Market
Bloomberg News
Shanghai Composite recovers after decline to two-month low

Rebound on bargain-hunting, state support speculation: analyst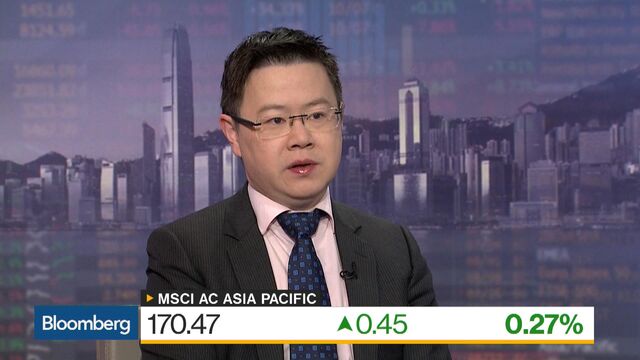 Chinese stocks rallied in late trade as markets took a closer look at the nation's new plans to rein in shadow banks and some traders speculated that state funds would act to stem excessive losses.
The Shanghai Composite Index closed 0.3 percent higher, after falling as much as 1.4 percent to a two month-low. The ChiNext gauge of mainly technology companies led moves in both directions and ended the day 1.4 percent stronger. Stocks had tumbled across the board in the morning amid concern that the latest attempt to tighten supervision of $15 trillion in asset-management products would siphon funds from the market.
While analysts applauded the plan as an important step toward curbing risk in China's financial system, they also warned of turbulence as markets adjust to outflows from popular shadow-banking products. The government directives, set to take effect in 2019, are the latest in a series of moves to reduce financial risk that have whipsawed financial markets this year.
To read more views on the new rules, click here.
"Investors were hunting for bargains in smaller caps and ChiNext stocks that tumbled this morning," said Dai Ming, a Shanghai-based fund manager with Hengsheng Asset Management Co. "Some people may have come to realize that the new rules are not much different from what authorities had been doing to cut risks. Financial institutions will be well-prepared given the long grace period. If the markets tumble further, that may invite the national team to step in and buy."

The Shenzhen Composite finished the day up 0.9 percent, reversing a 2.1 percent loss. Materials producers and energy firms led a 0.6 percent gain in the CSI 300, which erased a 1.5 percent decline. Hong Kong-listed Chinese shares retreated 0.6 percent while the Hang Seng Index edged up 0.2 percent.
Developers and brokerages were among the day's biggest losers on the mainland. The Shanghai Stock Exchange Property Index dropped 0.5 percent, with Gemdale Corp. losing 1.3 percent. China Vanke Co. sank as much as 4.9 percent in Shenzhen before closing unchanged. A measure of securities firms posted their lowest finish in five months, with Citic Securities Co. tumbling 3.1 percent.
Buying Opportunity
"Investors see the decline of index components as opportunities to buy," said Ben Kwong, executive director at KGI Asia Ltd. in Hong Kong. "The proposed new regulations may raise some short-term concerns but would help to attract foreign inflows as it would make the market better in the long term. So it's not entirely negative."
China's sovereign bonds showed muted moves on Monday, with the benchmark 10-year yield rising one basis point higher to 3.97 percent. The yield has surged 24 basis points since the end of a Communist Party Congress on Oct. 24 amid rising inflation and concern that policy makers will intensify a deleveraging campaign.
Here are the key takeaways from analysts and investors on the new rules announced Friday:
This adds to evidence that containing financial risks is a priority for President Xi after he cemented his grip on power at the party congress
The rules may bring an end to popular short-term investment products that offer fixed rates of return; returns from new products will fluctuate and more accurately reflect the risks of their underlying assets
Uniform guidelines for banks, trusts, insurers, fund managers and brokerages will help prevent regulatory arbitrage
The move to end implicit guarantees is welcome, but it could spur outflows and weigh on domestic securities markets
Smaller banks are more vulnerable to a loss of off-balance sheet funding than larger ones
A grace period through June 30, 2019, will help contain market fallout and give financial institutions time to prepare
Watch for follow-through; authorities have clamped down on shadow banking before, only to ease up because they feared an economic slowdown
Consumer staples were among the worst performers on the big-cap CSI 300 Index Monday, extending a selloff from Friday after the official Xinhua News Agency called for Kweichow Moutai Co. shares to rise at a slower pace. Kweichow lost 1.6 percent and Wuliangye Yibin Co. declined 2.6 percent.
— With assistance by Amanda Wang, Helen Sun, and Emma Dai
Before it's here, it's on the Bloomberg Terminal.
LEARN MORE