China Offers Solution for Rohingya Refugee Crisis in Myanmar
By and
Foreign Minister Wang met with leaders of Bangladesh, Myanmar

Wang outlined three-point plan involving refugee repatriation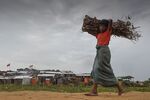 A top Chinese diplomat proposed a resolution to the Rohingya refugee crisis in Myanmar that has seen more than 600,000 Muslims flee across the border into Bangladesh.
At a joint press conference on Sunday with Myanmar leader Aung San Suu Kyi, Chinese Foreign Minister Wang Yi outlined a three-point solution that would allow Myanmar and Bangladesh to resolve the situation. The steps included a cease-fire, repatriation of refugees and talks on a long-term solution.
Wang had visited Bangladesh on Saturday before meeting with Myanmar's top leaders. He's scheduled to attend a meeting of Asian and European foreign ministers in Naypyidaw on Monday and Tuesday, at which the Rohingya issue is expected to be discussed.
The crisis in Myanmar has hurt the country's image shortly after a democratic opening spurred a wave of interest from foreign companies. China had backed Myanmar's military junta for over two decades as the West put sanctions on the regime, and is now seeking to build an economic corridor stretching from landlocked Yunnan province to the Bay of Bengal.
While State Department spokeswoman Heather Nauert said last month that the U.S. was assessing economic options available to target individuals associated with any atrocities, Secretary of State Rex Tillerson said on a visit to Myanmar last week that the introduction of broad-based economic sanctions at this time wouldn't help resolve the crisis.
Suu Kyi, a Nobel laureate and former political prisoner, has rejected widespread accusations that she hasn't done enough to protect the Rohingya.
The latest tensions were sparked in August when militants from the Arakan Rohingya Salvation Army attacked 25 police and army posts, killing a dozen security officials in Rakhine state. The military responded with what it calls "clearance operations." Multiple reports have since accused security forces and Buddhist vigilantes of indiscriminately attacking Muslims in the state and burning their villages, with the United Nations describing the campaign as "ethnic cleansing."
Read more: A QuickTake Q&A explaining Myanmar's Rohingya Crisis
After meeting with Bangladeshi Prime Minister Sheikh Hasina in Dhaka on Saturday, Wang told reporters that China was "willing to play a constructive role" in resolving the situation.
In a statement, Bangladesh's foreign ministry said Wang had "acknowledged Bangladesh is facing the brunt" of Rohingya refugees from Myanmar and pledged that China would continue providing humanitarian assistance to help Dhaka deal with the crisis.
The Bangladesh foreign ministry didn't directly address China's plan, but said "Bangladesh remains engaged bilaterally with Myanmar for the solution of the problem and will look forward to China's support for the early return of the Rohingyas to their homeland in Myanmar with dignity and safety."
Despite opposition from China and Russia, the UN General Assembly's human rights committee endorsed a resolution on Nov. 16 calling on Myanmar's military to end its campaign against the Rohingya.
Last week, the International Monetary Fund predicted a rebound in Myanmar's economic growth to 6.7 percent in 2017-2018. The crisis in northern Rakhine could affect development finance and investor sentiment, although the direct economic impact appears to have been largely localized so far, the IMF said.
Before it's here, it's on the Bloomberg Terminal.
LEARN MORE