Luxury Hong Kong Apartment Breaks Asia Price Record
By
Mount Nicholson apartment fetches $17,000 per square foot

Price is equivalent to 2,745 years of city's median income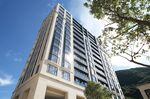 An unidentified buyer paid HK$132,000 ($17,000) per square foot for a luxury flat in Hong Kong's exclusive Peak neighborhood, making it Asia's most expensive apartment by area, according to Knight Frank LLP.
The buyer shelled out more than HK$1.16 billion Monday for two adjacent apartments at No. 8 Mount Nicholson, said Wheelock Properties Ltd. The record was set by the smaller of the two, which sold for HK$560 million. The project is a joint venture with Nan Fung Development.
Hong Kong's property market is running red hot across land, commercial and residential buildings. Soaring home prices have put the city in bubble risk territory as local and foreign investors pile in, making a "mild correction" likely, according to the UBS Global Real Estate Bubble Index. Secondary residential prices have climbed 11 percent in the past 12 months, according to Centaline Property Agency.
"For many high net-worth individuals, Mount Nicholson is a way to invest," said Thomas Lam, head of valuation and consultancy at Knight Frank.
Such purchases also highlight the extreme differences between rich and poor in Hong Kong, which is the world's least affordable city to buy a house. It would take 2,745 years worth of the entire median annual income of HK$204,000 to buy the record 4,242 square foot property on the Peak.
"The wealth gap has increased a lot," said Cusson Leung, head of research for Hong Kong property and conglomerates at JPMorgan Chase & Co. "The people on the street and the people on the Peak are separated by 2,745 years."

On Nov. 15, a six-member consortium including Sino Land Co. and K Wah International Holdings Ltd. paid HK$17.3 billion for a residential plot in Kowloon, a record for government land.
At Sun Hung Kai Properties Ltd.'s Victoria Harbour development in North Point, prospective bidders are required to pay a HK$7 million deposit for the right to view the apartments.
"The tendering process and deposit arrangement are not uncommon for high-niche residential properties, considering that the units are rare and of high quality," the company said in an email.
Six other units at the Mount Nicholson development didn't sell, because the tendered bids were too low, Wheelock said.

Wheelock said it is releasing six more apartments today by tender. Earlier this month, a four-bedroom house at Mount Nicholson with a swimming pool, elevator, garden and unobstructed views of Hong Kong and Victoria Harbour sold for HK$1.16 billion, or HK$126,813 per square foot.
Before it's here, it's on the Bloomberg Terminal.
LEARN MORE