Zimbabwe's Ruling Party Fires Mugabe, Names Mnangagwa Leader
By and
Mugabe may be impeached if he doesn't agree to step down

Zanu-PF also resolves to expel wife Grace from its ranks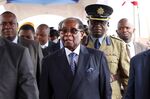 Zimbabwe's ruling party fired Robert Mugabe as its leader and ordered him to resign as president by midday Monday or face impeachment. It named Emmerson Mnangagwa as the new party leader and presidential nominee for elections due to be held next year.
The decisions were taken at a meeting of the Zimbabwe African National Union-Patriotic Front's central committee in the capital, Harare, on Sunday. They follow Mugabe's dismissal of his vice president Mnangagwa earlier this month, which prompted the military to intervene and place him under house arrest.

"Zanu-PF has fully endorsed the military intervention and lent some democratic credence to what is effectively a military coup," said Robert Besseling, executive director of political risk advisory firm EXX Africa. "This is the end of the line for Mugabe."
On Mugabe's watch, Zimbabwe has become steadily more impoverished. The economy has halved in size since 2000, there are chronic shortages of cash and food and the country's main labor-union organization estimates that 95 percent of the workforce are unemployed. Seeing the likely removal of the 93-year-old president, joyous crowds turned out in Harare and elsewhere on Saturday to celebrate.
Mugabe's decision to fire his long-time ally Mnangagwa could have paved the way for his 52-year-old wife Grace and her supporters from a Zanu-PF faction known as the G-40 to gain control of the nation. Nicknamed "Gucci Grace" in Zimbabwe for her extravagant lifestyle, she said on Nov. 5 that she would be prepared to succeed her husband. The party has now resolved that she should be expelled from its ranks.
Under Zimbabwe's constitution, the country's remaining vice president should step in for Mugabe if he's removed from his post and the ruling party must nominate a replacement within 90 days. 
Mugabe's decision to oust Mnangagwa was unconstitutional and will be revoked, Patrick Chinamasa, Zanu-PF's secretary for legal affairs, said at a press briefing in Harare, adding that Mnangagwa will become interim president. The party expelled Phelekezela Mphoko, the nation's other vice president, removing any chance that he could take up the post.
— With assistance by Michael Cohen
Before it's here, it's on the Bloomberg Terminal.
LEARN MORE