Arab League Condemns Iran, Calls Hezbollah a Terrorist Group
By and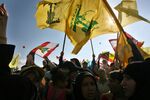 The Arab League accused Iran of destabilizing the region and condemned Lebanon's Iranian-backed Hezbollah as a terrorist organization, but stopped short of announcing any action against either.
Speaking after an emergency foreign ministers' meeting in Cairo on Sunday that was called by chief Iranian rival Saudi Arabia, Arab League Secretary-General Ahmed Aboul Gheit said Arab countries might consider going to the United Nations Security Council to discuss future steps against the Islamic Republic.
"Iran is aiming to control many of the Arab capitals," he said in a press conference, adding the grouping was not declaring war on Iran.
The league's criticism comes at a time of growing tension between Saudi Arabia and Iran following the resignation of Lebanese Prime Minister Saad al-Hariri earlier this month. Hariri is a long time ally of Saudi Arabia but his surprise announcement, made from Riyadh, and his strident condemnation of Hezbollah and Iran prompted questions in Lebanon over whether he was being held against his will. Hariri insisted he was free to make his own decisions.
Hezbollah is a prominent political party in Lebanon, which is ruled through a fragile sectarian system. But its fighters have also been heavily involved in the Syrian war on the side of Bashar al-Assad, a fellow ally of Iran. Saudi Arabia opposes Assad.
Lebanese President Michel Aoun, a Hezbollah ally, on Monday said Lebanon is not responsible for the conflicts in Arab countries and cannot accept the implication that it's involved in terrorist attacks, National News Agency reported, citing remarks made during a meeting with Gheit in Beirut. Israel continued to be a threat, he said, and Lebanon has the right to resist it. He didn't mention Hezbollah by name.
Ties between Iran and Saudi Arabia were also strained when Houthi rebels fired a ballistic missile at Riyadh on Nov. 4. Saudi Arabia accused Iran of supplying the missile to the rebels, who are fighting against a Yemeni government it backs. Tehran denies the charges.
Saudi Arabia requested the meeting in Cairo to discuss Iranian intervention in the region following the missile incident.
Saudi Crown Prince Mohamed bin Salman has taken the once-cautious kingdom on a more aggressive foreign policy course over the past two years, thrusting it into the war in Yemen and leading a regional boycott of neighboring Qatar as he seeks to counter Iran's influence in the Middle East.
— With assistance by Dana Khraiche
Before it's here, it's on the Bloomberg Terminal.
LEARN MORE