Macron Raises Pressure on Low-Cost Europe as Poland Protests
By
France calls for budget levers to drive up labor standards

Poland targeted by Macron, EU on rule of law, lax labor rules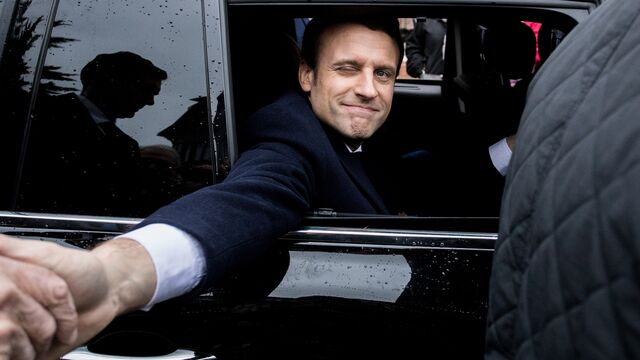 French President Emmanuel Macron urged European Union leaders to work together to protect living standards and called for financial penalties for those who refuse to play ball.
With 27 countries meeting in Gothenburg, Sweden, as Angela Merkel tries to broker a coalition agreement at home in Berlin, Macron said that some members have taken advantage of subsidies from the EU to hold down tax rates, undermining incomes for workers across the bloc. He said the EU should find ways to punish that practice in its next round of budget negotiations due for completion in 2020.
"Structural funds are being used to maintain low costs and engage in tax competition, we have to rediscover some consistency," Macron said at a press conference Friday. "I hope the next budget talks will apply some social criteria."
After seeing off the populist threat of Marine Le Pen in this year's election and witnessing the effect of low-cost migrant workers from the east, the French president is trying to bolster the social safety net across Europe. He argues that such measures will help contain the threat of nationalists like Le Pen and draw the EU closer together as he pursues deeper integration of the continent's economic institutions and its foreign policy apparatus.
Macron's calls for more risk-sharing at the European level are also playing into talks to form a coalition government in Germany this weekend, with three participants saying Merkel is keeping the door open to French calls to strengthen the euro area's defenses against crises.
Poland on the 'Margins'
The French president's Friday broadside may have been felt particularly in Poland, where the populist Law & Justice party took power in 2015. In August, Macron said that the party is taking Poland to the "margins" of Europe and Guy Verhofstadt, leader of the liberal political group at the European Parliament, joined the attack this week, demanding financial penalties against its government for undermining the rule of law. The European Commission is already investigating the governing party for its attacks on judicial independence.
Prime Minister Beata Szydlo on Friday said the criticism from Verhofstadt was "based on false presumptions" and "defamatory."
Read more, Why Poland's Populist Shift Has Europe Pushing Back
"Debates should be based on the truth," she said.
Macron's push for deeper integration, especially for the euro area, is putting pressure on the major economies in eastern Europe -- Poland, Hungary and the Czech Republic. Those nations have been stalling on joining the single currency despite largely meeting the accession criteria, but they will also be reluctant to be left out if the euro nations draw closer together.

Germany's Merkel has signaled openness to Macron's proposals to better insulate the euro area against shocks, including the option of a joint budget, though she's ruling out shared debt or "automatic transfers."
In talks to form a new government, she is rebuffing pressure by the Free Democratic Party, a potential coalition partner, to rule out any new channels of financial support for euro-area governments that face external shocks, one participant said. Coalition negotiators will probably settle on general language that doesn't flatly reject the idea floated by Macron, two others said.
On Friday, Macron said the EU needs to enforce basic labor, tax, environmental, and safety standards if establishment parties want to win back votes from nationalists who've made ground by arguing that only historic borders can defend citizens from globalization. In the past, he has singled out Poland for its lax labor rules.
"The central challenge is social convergence and training for the jobs of tomorrow," he said. "We need to define a set of common standards. It's not about imposing a one size fits all, but to set minimum standards based on the reality of each country."
Along with the European Commission and the European Parliament, EU leaders Thursday signed a so-called Pillar of Social Rights, a set of 20 principles focusing on social and labor-market conditions to provide greater access to labor markets, safer work conditions, and improved social services and protection. Over lunch, they discussed how education and cultural policy can help forge a European identity that may help counter nationalism.
Labor Laws
Macron would like to go further. At Thursday's meeting, he threw his support behind European Commission President Jean-Claude Juncker's call for an EU authority to enforce labor regulation, and said the next EU budget should link structural funds allocated for regional development projects to respect for minimum social and tax standards.
He also proposed greater convergence of European secondary education to increase mobility for families across the soon-to-be 27-member bloc, and called for pan-European university programs.
In September, just four months after his election, Macron gave two major speeches -- one on an Athens hill overlooking democracy's birthplace and the other at Paris's almost 800-year-old Sorbonne University -- to call for European nations to cede more sovereignty to the EU and at the same time to give EU citizens more democratic input into EU decision making.
With German support, he's also pushed through restrictions on workers' movements within the EU, though not restrictive enough to satisfy anti-immigrant parties at home.
At home, Macron has already pushed through labor-law liberalization to encourage hiring, and is working on a revamping of unemployment and job training programs. Those measures have earned him respect in Scandinavia, where some of the highest living standards in Europe combine flexibility for employers with protection for workers.
"I'm very pleased that we now have a French president who's very inspired by what we do and is looking toward the Scandinavian model," Danish Prime Minister Lars Lokke Rasmussen said. "The principles we're agreeing today will respect my red lines to protect the Danish model."
— With assistance by Richard Bravo, Nick Rigillo, Ian Wishart, Viktoria Dendrinou, Peter Levring, Niclas Rolander, and Birgit Jennen
Before it's here, it's on the Bloomberg Terminal.
LEARN MORE