Cars
How Koenigsegg Broke the Land Speed Record With Its Agera RS
Tires. Downforce. Weight. Horsepower. Aerodynamics. When you're going 277 miles per hour in a production car, everything matters.
By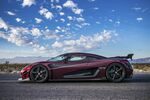 This month a Koenigsegg Agera RS hit the highest speed ever for a production vehicle.
Driver Niklas Lilja averaged a top speed of 277.87 mph across two runs in the $2 million coupe on a 11-mile, closed-off stretch of Highway 160 near Pahrump, Nev. 
That beat the previous record of 267.8 mph set by a Bugatti Veyron Super Sports model seven years ago in Germany. It also beat the Hennessey Venom GT and McLaren F1 that had previously owned or approximated similar top speeds.  
What's more, Lilja set records for highest speed in a single direction on a public road (284.55 mph); a zero-400-zero km/h run (33.29 seconds); the highest average speed for a mile with a flying start on a public road (276.36 mph); and the highest average speed for a flying kilometer on a public road (276.9 mph).

The two latter records had been unbeaten since 1938. Nazi engineers set them with a modified Mercedes W125 race car along a section of the German autobahn. It was overdue for a topple.
"We are in a golden age of high-performance cars right now," said Eric Schmedding, the product manager for original equipment at Michelin. Schmedding woke at 5 a.m. the day of the performance to monitor the single set of Michelin Pilot Sport Cup 2 tires the Agera wore for the duration.
"It took years to break the 200-mph mark, but now we are knocking on the door of 300 mph," he said. "It's a big game, with fierce competition, and it's very fast moving."
Indeed. While the auto and technology industries have garnered plenty of hype for self-driving and autonomous cars—appliances, really—the field of drivable, high-powered super cars has never been more exciting. 
A Change in the Wind

The Koenigsegg Agera RS that set the record had a 1,360-horsepower, twin-turbocharged V8 engine and a power-to-weight ratio near that of the famous Koenigsegg One:1 (so-named for its perfect 1:1 ratio). It also weighed just 1395 kg (3,075 pounds), not including the factory-installed roll-cage used while completing the records. That sounds heavy, but it's more than 1,000 pounds lighter than the 4,162-pound Bugatti that previously held the speed record and roughly 200-hp more powerful—two considerable factors.
But it was also adjusted for downforce, Koenigsegg spokesman Steven Wade said on a phone call from the factory in Sweden. (Downforce is important for keeping a car stable as it accelerates and moves through space at high speed.) That proved the key factor to making the Agera RS faster than the more powerful, more expensive, more insane One:1. Where the One:1 was aerodynamically calibrated specifically to handle the curves of a track—the shape of its front splitter, rear wing, and air vents all direct the flow of air in the way that eases changes in direction and speed—Koenigsegg calibrated the Agera RS to optimize movement in a straight line.
"Agera doesn't quite have the same quite dramatic aerodynamics [as the One:1], which it means it has less drag," Wade said. "With less drag, you're able to cut through the air quicker; with slightly less downforce, it's better suited to a top speed, so this car was almost always a better candidate for a top speed record."
The Simple Things

The other main factors that allowed the Agera RS to excel in Nevada are much more mundane: tires and logistics.
After all, the Agera RS has been available since 2015. The car that set the record is a true production vehicle, so in theory Koenigsegg could have set the record back then. But it was only within the past six months that Michelin began working directly with Koenigsegg to go for a moon shot.
"Tires are critical when you're talking about a high-speed run like this—they are the potential weak link," Wade said. "If anything should go wrong with a tire, you've got a potentially fatal situation, to be honest."
For instance, that tiny valve stem where you put air into the tires on your 911 weighs 30 grams when you hold it in your hand. That's about equal to a pair of Ray-Ban sunglasses. But when it's rotating at 450 km/hour, it weighs closer to 170 kilograms, or 375 pounds, he said. That's enough to affect the handling of the car or do serious damage as a flying object should anything go wrong.  
"It's the centrifugal force," Wade said. "So we had to rotate a wheel with that part in to make sure it would hold up. This hadn't been done before, so we had to make sure. Luckily, it passed with flying colors."

The deeper challenge was to mitigate heat, tire pressure, and wear at speeds faster than some airplanes travel at takeoff. For the Koenigsegg run, Michelin conducted the testing sessions at an aircraft testing facility in Michigan. Where some tires may have been able to sustain a high speed for a few seconds, these tires needed to be able to repeatedly withstand high speeds for minutes at a time.
"When you're traveling at 250 mph, you've got to control for the growth of the tire," Schmedding said. Heat and centrifugal force are the issue. "I kept checking everything run after run, and it all looked great. We felt comfortable. I just said, 'Let's keep going.'"
It's no accident that the Porsche GT2 RS that just broke the Nurburgring record also used stock Michelin tires—the company outfits most of the automakers competing in this rarefied air, although it uses strictly different tires for each brand and don't share data between brands, Schmedding said.
Each of the four Michelin Pilot Sport Cup 2 tires used for the Koenigsegg record run consisted of a proprietary mix of rubber, thread compounds, steel bands, and filaments with Kevlar-style cords inside that allowed engineers to regulate the tension of each tire as it achieved top speed. They were also made without the seams in the rubber that "normal" tires have, which can create heavy spots in the tire when run at high speeds.

As with every other component of the record-setting car—the aspect that makes it so exciting to driving enthusiasts everywhere—the tires are available for sale to anyone who can afford their retail price of $300 to $400 per tire.
The Race Is On
Clothing retailer Mark Stidham could afford the tires along with the car. It was his idea to go for the record (talk about bragging rights), and he was the first Agera RS owner to make his own car available for the attempt. Koenigsegg needed the support: There's a three- to four-year waiting list for people who have already paid to buy Koenigsegg's current car, the Regara; each of the 80 to be made were assigned to buyers long ago. As for the Agera RS, the brand will make only 25, plus three final edition cars.
"We only build cars for customers," Wade said. "We did have plans to build an RS for ourselves, but we had sold the entire allocation that we were going to build, so we didn't even have a demonstrator."
It helped that Stidham reportedly has friends in the film industry. Those guys know how to shut down entire stretches of highway, a feat that takes no small effort to work through paperwork, permits, transport, fees, and scheduling. One of the reasons that 80-year-old flying-kilometer record stood for so long was simply that no one had taken the time to beat it.

Not that the challenge will keep Bugatti away. Or Hennessey, for that matter. Not by a long shot.
In a written statement, the Volkswagen-owned company said it "congratulates Koenigsegg on this achievement" and is "pleased to see that several super sports car manufacturers have entered the competition for records in the high speed range."
"As announced at the Frankfurt International Motor Show a few weeks ago, Bugatti will be making its next high-speed drive in 2018," the emailed statement said, referring to an anticipated run with the Chiron. The Chiron is limited to 500 vehicles, more than 300 of which have already been sold.
"In the future, we will maintain our philosophy of building a production super sports car that is not only designed for maximum speed but also meets the highest possible demands in terms of luxury, comfort, everyday drivability and durability," Bugatti said. "The new Chiron combines the best in all these areas which makes it the world's most complete super sports car and a unique concept."
Outsiders expect the response to pack a resounding wallop.
"Koenigsegg took this record from Bugatti, who we work very closely with as well," said Michelin's Schmedding, who due to confidentiality agreements declined to give additional specifics about future projects. "I'm sure they will plan to answer in 2018 with the Chiron. We expect that will happen."
Sitting in his office in Sweden, Wade also anticipates an answer from Bugatti. It's only a matter of time.
"Bugatti gives the car certain characteristics in terms of refinement that its customers are looking for," he said. "We are more aggressive from a track standpoint—we have a much lighter car. But Bugatti haven't run the Chiron to top speed yet, so we'll wait and see what they can do. It'll be something."
Before it's here, it's on the Bloomberg Terminal.
LEARN MORE