AT&T Deploys `Flying COW' Drone for Cell Service in Puerto Rico
By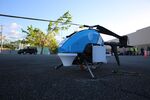 AT&T Inc. has deployed a drone to act as a "cell tower in the sky" to help provide communication services in hurricane-ravaged Puerto Rico, the first time the technology has been used to reconnect residents after a disaster, the company said.
The Federal Aviation Administration announced its approval Friday for the use of the vehicle, which resembles a small helicopter.

The "Flying COW," which stands for "Cell on Wings," hovers 200 feet above the ground to provide wireless service to people within a 40-mile area. It's connected to the ground with cables for power and telecommunication signals.
The FAA had to issue a special waiver to the company because routine commercial drone use is limited to devices weighing less than 55 pounds (25 kilograms). The approval was granted on Nov. 5, according to the agency.
Unlike the quad copters that are most common in civilian use, the Pulse Vapor 55 drone resembles a small helicopter, according to the FAA.
Before it's here, it's on the Bloomberg Terminal.
LEARN MORE