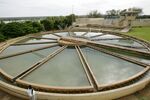 A record month for inflows into corporate bonds is "setting up a disaster for when rates rise & `investors' learn that, yes, these bonds have rate risk" was yesterday's latest tweeted warning from Jeffrey Gundlach. So what would the billionaire bond manager make of the first BBB-rated borrower actually getting paid to sell new bonds?
French utility Veolia Environnement SA is one of a handful of low-rated borrowers—assessed at BBB or lower by Standard & Poor's—with fixed-rate debt repayable in three years or longer that trades at yields below zero in euros.

The select gang comprises Affinity Water Ltd., a U.K. water company bought earlier this year by Germany's Allianz SE, South East Water Ltd. (also based in the U.K.), Italian gas and electricity company A2A SpA, German energy provider Innogy SE and Italian power giant Enel SpA. It seems bond investors trust the steady cash flow available to utilities to compensate for the low ratings of all the companies here.
Veolia already has three-year paper that trades at a negative yield. Those bonds, however, were sold in 2005 at a yield of almost 4.5 percent; they dipped below zero for the first time last year, and recently turned negative once more.

But on Thursday, Veolia went one better by pulling off the neat trick of persuading investors to pay it directly to borrow, selling 500 million euros of bonds repayable in three years at a negative yield of 0.026 percent—"a first for a BBB issuer," the company trumpeted in a press release. What's more, the sale was oversubscribed by more than four times.
Now, you could view the sale one of two ways. For the optimists, it provides evidence that investors are awash with cash and still confident that the European Central Bank's bond-buying program will continue to support the market.
If, like Gundlach, though, you're concerned that the world of fixed-income is in for a rude awakening and that the stress will first show up in the corporate bond market, you'll probably view it as a last hurrah before reality hits home with a vengeance.
Before it's here, it's on the Bloomberg Terminal.
LEARN MORE