Mugabe's Refusal to Resign Is Stalling Zimbabwe's Transition
Bloomberg News
Coup planned weeks ago, accelerated when Mugabe fired deputy

Military will work with ruling party, opposition groups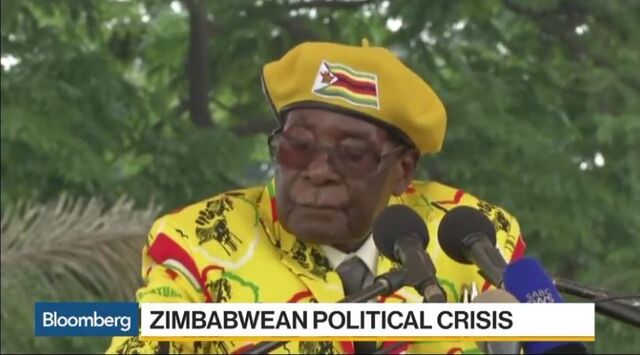 Zimbabwean President Robert Mugabe held direct talks with the leader of a group of generals who took power early Wednesday and is urging him to end his 37-year rule of the southern African nation.
The state-owned Herald newspaper published photographs on Thursday showing Mugabe, 93, meeting with armed forces commander Constantino Chiwenga at State House. The state-owned Zimbabwe Broadcasting Corp. confirmed their meeting. Father Fidelis Mukonori, a prominent Catholic priest, is mediating the talks, which include officials from neighboring South Africa.
Throughout the day, Mugabe's refusal to publicly resign hindered plans by the military to swiftly install a transitional government, two people familiar with the situation said. The military wants Mugabe, who's under house arrest, to agree to step aside so it can claim its action isn't a coup and head off tension with the Southern African Development Community, which includes Zimbabwe and South Africa, said the people who declined to be identified.
The new rulers plan to cobble together a transitional administration until elections can be held to restore stability, the people said. But first they want a deal with Mugabe, whose government oversaw an economy that has halved in size since 2000 and been hit by a severe cash shortage that's choking businesses and a collapse in government services. The military has declined to comment on its plans.
"The military, or the people who are now in charge, obviously they have some respect for Mugabe -- he is someone who has led them for so many years," Alex Magaisa, a Zimbabwean law lecturer who helped design the southern African nation's 2013 constitution, said in a interview with Bloomberg Television in London. "I think there is still some residual sympathy for him. They wouldn't want to be seen to be mistreating him."
Military Intervention
The military intervention had been planned for weeks but was accelerated after Mugabe fired his deputy Emmerson Mnangagwa, according to the people. Opposition leaders and political allies Angola and China were given some warning, they said.
Mnangagwa is a leading contender to head the transitional government, which include opposition figures, according to the people.

Opposition leader Morgan Tsvangirai said he hadn't been approached by the military rulers for talks on a transitional government but he's prepared to hold discussions with them.
"If we're approached, we'll participate in that, but for now nothing has been initiated," he told reporters Thursday in Harare.
Mnangagwa, who fled the country, is allied with the military, while his rival, Mugabe's wife Grace, 52, heads the so-called Generation-40 faction of mainly younger politicians who didn't fight in the liberation war against the white-minority regime of Rhodesia. Grace on occasion publicly criticized war veterans.
'Gucci Grace'
The whereabouts of Grace Mugabe, who's known in Zimbabwe as "Gucci Grace" for her extravagant lifestyle, remain unknown. South African President Jacob Zuma said Mugabe told him by phone on Wednesday that he was being confined to his home but was otherwise fine.
The police and secret service, where Mugabe has allies, were excluded from the plans of leaders of the 35,000-member military, the people said. A number of senior ruling-party officials, including the head of the police and the deputy director of the Central Intelligence Organisation, have been either arrested or are evading the military, the Harare-based Newsday newspaper said Thursday morning, citing unidentified people.
Colonel Oversin Mugwisi, a military spokesman, refused to comment on the names of those arrested.
The military is hoping to revive an economy hurt by a program initiated by Mugabe in 2000 that saw the violent seizure of white-owned farms by subsistence farmers. That slashed exports of key crops such as tobacco and roses and led to a famine as corn production crashed.

The new rulers also want to repair relations with Western countries, who used to be among the biggest investors in the country, and international lenders, the people said. They will seek investment from the more than 3 million people who left Zimbabwe because of the economic collapse including the white farmers driven off their land, the people said.
Zimbabwe was once the world's second-biggest source of top grade tobacco and the second-largest corn exporter in Africa. Investment in education in Mugabe's early years has resulted in a substantial portion of South Africa's professional class in industries ranging from banking to media coming from Zimbabwe. Remittances are now one of the country's biggest sources of foreign exchange.
Many ordinary people simply hope that a new government can improve daily life in Zimbabwe, where an estimated 95 percent of the workforce is jobless. The country doesn't even have its own currency and relies mainly on the dollar.
"I hope and pray this takeover will bring lasting solutions for us," said James Saunyama, as he collected his weekly allocation of $50 in coins from a bank in Harare. "We've endured enough so this takeover must give us better and improved lifestyles going forward."
— With assistance by Brian Latham, Godfrey Marawanyika, Desmond Kumbuka, and Michael Cohen
Before it's here, it's on the Bloomberg Terminal.
LEARN MORE