Finance
How Trump Can Give Wall Street What It Wants
The president can't cancel Dodd-Frank, but he can change the way it's enforced.
By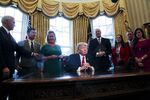 Randal Quarles was speaking to a standing-room-only crowd at a financial industry conference at the Pierre hotel in New York on Nov. 7, in the glow of Venetian chandeliers and bankers' goodwill. The regulations that swept in after the 2008 financial crisis are ripe for an edit, said the Federal Reserve's new vice chair for supervision, one of Wall Street's watchdogs, and "everything is up for a fresh look." President Donald Trump's campaign promise to roll back financial regulation is making fitful progress on the legislative front. But his choice of Quarles for the supervision job highlights another way to deregulate: by changing the people in charge at key agencies. The former executive of private equity giant Carlyle Group added that the biggest difference he'll probably make is "changing the tenor" of how the Fed interacts with banks.
Trump is about to get a chance to change another agency's tune. Richard Cordray said on Nov. 15 that he will step down as head of the Consumer Financial Protection Bureau, which was created by the 2010 Dodd-Frank Act. Appointed by President Barack Obama, Cordray continued to issue restrictions this year, including one on payday lenders.
Still on Wall Street's wish list is a softening of the so-called Volcker Rule put in place by Dodd-Frank. It prevents banks from making high-risk trades with their own money. But what counts as a prohibited investment is decided by five different agencies, including the Office of the Comptroller of the Currency. The OCC has sprung ahead of the pack by calling for bankers' input on rewriting the rule. "Change is coming, and it will only increase over the next year," says Keith Noreika, who was brought in by the administration to temporarily run the OCC. Trump's permanent OCC pick is Joseph Otting, a former chief executive officer of OneWest Bank Group; he's poised to take over an agency that once hammered OneWest over its foreclosure practices.
The administration has also signaled its intent to give banks a break on a key capital rule. (Stringent capital requirements can protect banks in a crisis.) A meaningful change will require coordination by three agencies—the Fed, the OCC, and the Federal Deposit Insurance Corp. The FDIC is run by an Obama appointee whose term expires at the end of November. The White House is said to be vetting a replacement. 
BOTTOM LINE -
Passing legislation to roll back post-crisis financial rules is a heavy lift, but President Trump is appointing regulators who can help rewrite parts of the rulebook.
Before it's here, it's on the Bloomberg Terminal.
LEARN MORE