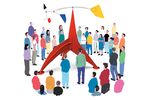 The artist Alexander Calder died 41 years ago, but today he seems more famous than ever: In 2017 he's been featured in four solo exhibitions, and in November no fewer than 31 of his colorful mobiles, massive sculptures, prints, and paintings will be auctioned at Christie's and Sotheby's. According to Artnet, his art has gone under the gavel more than 10,400 times; his record sale was set in 2014 at Christie's in New York, when a hanging mobile went for almost $26 million.
A biography by the art historian and critic Jed Perl, Calder: The Conquest of Time, attempts to explain how a single artist could come to so completely dominate the field of American modernist sculpture. The writing practically hums as Perl describes Calder's work, which he clearly adores, and the text has reams of novel insights: We learn about Calder's indebtedness to the painter Piet Mondrian—not an obvious connection—and that it was Marcel Duchamp who suggested Calder describe his hanging sculptures as mobiles, a term that came to connote an entire artform. The book's most illuminating portions highlight how closely interwoven the artist's social life was with his professional success. Through his connections and his efforts to market his own work, he helped to create, then cement, a type of artistic fame that persists to this day.

Calder was born in 1898 in Lawnton, Pa., into a family of artists. His grandfather, Alexander Milne Calder, sculpted the 37-foot-tall statue of William Penn that sits on the dome of Philadelphia's City Hall. (We're told he was haunted until his death by the conviction that the builders had mounted it in the wrong direction.) A. Stirling, Calder's father, a famous fin de siècle artist, sculpted, among other things, the figure of George Washington that adorns New York's Washington Square Arch.
Calder himself backed into a career as an artist rather than pursuing one outright—he went to university to study engineering and, only after dragging his heels following graduation, studied at the Art Students League of New York. In 1926 he would move to Paris.
Soon after his arrival, in an attempt to earn some money, he made his Cirque Calder, a miniature stage set starring tiny circus performers that he could manipulate with wires and strings to do tricks. (The original is in the permanent collection of the Whitney Museum of American Art in New York.) He held performances in his studio and, eventually, in fashionable drawing rooms in the U.S. and Europe. Socialites would invite him and a coterie of friends, including the sculptor Isamu Noguchi, to operate the Cirque during cocktail parties.
Calder's star began to burn even brighter in 1931, when he married Louisa James, a wealthy grandniece of the author Henry James. Her trust fund largely supported the couple for the next decade. Perl notes, delicately, "The fact that Louisa's family was well set financially couldn't have been a matter of indifference to Calder." By 1933 the couple had moved into a spacious apartment in Paris.
While the rest of the world was plunged into the Depression, Calder and his wife were "coming into their own as hosts," comfortably entertaining the disparate, immensely important interwar milieu that would shape the world of art and culture for the rest of the century. Over the years, they became friends with Alfred Barr Jr., the first director of the Museum of Modern Art in New York; Martha Graham, the modern dancer and choreographer; the artist Joan Miró; the playwright Arthur Miller; and dozens of other luminaries.

It's here where Perl's book feels particularly thin, clearing Calder of anything as unscrupulous as ambition. He thus brushes aside the possibility that the artist could have been canny enough to use his connections to further his quest to establish a serious position in the art world. So while Perl carefully details Calder's social gifts and role as expansive host and charming houseguest at English country estates, he discounts any impact it might have had on the artist's career. "Variations on this portrait of Calder as a sly opportunist reappeared throughout his life," Perl writes. "The accusations were unfounded."
The book ends in the early 1940s, when Calder had officially made it. (A second volume, scheduled for publication in November 2019, will address the rest of his life.) By then, his massive mobile, Lobster Trap and Fish Tail, had been installed in the stairwell of MoMA; the Rockefellers had commissioned a candelabra. Later, banking scion Paul Mellon bought cuff links made by Calder. Perl quotes a contemporary who says, "In those days, 'all the right people' wore Calder jewelry."
It takes more than just "the right people" to sustain a 50-year career, of course, and anyone who's had the pleasure of standing beneath one of Calder's mobiles can understand the genius it took to transform abstractions into three dimensions. But his transition from a lighthearted tinkerer to ringmaster of Calder Inc. took a lot of help and a surfeit of goodwill. Perhaps Perl's next volume will make a point to give credit where credit is due.
Before it's here, it's on the Bloomberg Terminal.
LEARN MORE