Da Vinci Shattered These Record-Breaking Prices
"Salvator Mundi" sold on Wednesday for $450.3 million, beating out works by de Kooning and Cezanne.
Bloomberg News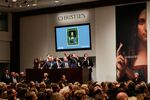 Here's a list of the artworks that set records before Wednesday night's $450.3 million sale of Leonardo da Vinci's "Salvator Mundi."
Billionaires including hedge fund manager Ken Griffin dominate the buyers group as does the state of Qatar, which has become one of the biggest purchasers of art as the royal family has sought to develop a world-class museum.
In fact, the salesroom at Christie's Da Vinci auction was full of millionaires and billionaires including Point72 Asset Management's Steve Cohen and philanthropist Eli Broad.
The buyer of the Da Vinci remains a secret.
$300 million
Willem de Kooning "Interchange"  (1955)
Sale date: 2015
Seller: David Geffen Foundation
Buyer: Ken Griffin (purchased this work as part of package with Jackson Pollock below)
$250 million *
Paul Cezanne, "The Card Players" (1892-1893)
Sale date: 2011
Seller: Estate of shipping magnate George Embiricos
Buyer: State of Qatar

$210 million **
Paul Gauguin, "When Will You Marry?" (1892)
Sale date: 2014
Seller: Swiss art collector Rudolf Staechelin (family)
Buyer: State of Qatar

$200 million
Jackson Pollock "Number 17A" (1948)
Sale date: 2015
Seller: David Geffen Foundation
Buyer: Ken Griffin
$186 million (140 million euros)
Mark Rothko, "No. 6 (Violet, Green and Red)" (1951)
Sale date: 2014
Seller: Christian Moueix 
Buyer: Dmitry Rybolovlev ***
$180 million (160 million euros)
Rembrandt, Two pendant portraits of Maerten Soolmans and Oopjen Coppit (1634)
Sale date: 2015
Seller: Eric de Rothschild
Buyer: The governments of France and the Netherlands

Transactions reflect works sold privately and at auction.
* = Exact price unknown. Various reports cite $250 million to $300 million.
** = Sale price first reported at $300 million. A lawsuit revealed the price was $90 million lower.
*** = Rybolovlev contested transaction in legal dispute with art dealer.
— With assistance by Katya Kazakina, and Nico Grant
Before it's here, it's on the Bloomberg Terminal.
LEARN MORE