Business
AT&T Wants to Get Vertical With Time Warner. Is That a Problem?
There are two kinds of mergers. One used to be better than the other. This time may be different.
By , , and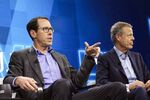 You don't have to be an ally of President Trump to have problems with AT&T Inc.'s $85 billion bid for Time Warner Inc., the owner of CNN. Some of the strongest opposition to the merger is coming from groups that ordinarily oppose the president.
Trump warned when the deal was proposed in October 2016 that if elected president he would block it "because it's too much concentration of power in the hands of too few." Trump has continued attacking CNN since then, but he says he hasn't pressured the U.S. Department of Justice to stop the deal.
Organizations such as the Open Markets Institute have little sympathy for Trump's tweets attacking CNN. But they are concerned that the tieup would harm ordinary Americans by giving AT&T the power to raise prices and withhold content from rivals.
The proposed merger would turn AT&T into the nation's biggest entertainment company, with properties including HBO, TBS, TNT, Cartoon Network, and Warner Bros. Entertainment Inc. People familiar with the discussions told Bloomberg that officials at Justice's antitrust division advised AT&T to explore alternatives such as selling Time Warner's Turner Broadcasting and then forming a joint venture with the newly separated company. The department is poised to file a lawsuit to stop the deal if it can't reach an agreement with AT&T.
The economics of the case revolve around the difference between horizontal and vertical mergers. A horizontal merger is between competitors that occupy the same spot in the value chain—say, two cable companies. They're closely scrutinized by authorities because they tend to reduce competition, giving the combined company the opportunity to raise prices, reduce choice, or both.
Vertical mergers have tended to get lighter treatment because they combine companies at different points in the value chain, such as a customer with its supplier, rather than uniting two competitors. Some have benefited consumers by improving efficiency and giving the combined company the incentive to sell more at a lower price. The Justice Department's 1984 nonhorizontal merger guidelines drew on the laissez-faire approach of economist Milton Friedman, legal scholar Robert Bork, and others. They asserted that vertical deals, while not "invariably innocuous," are less problematic than horizontal ones.
As recently as 2011 the Justice Department waved through a deal very similar to the AT&T-Time Warner combination: Comcast Corp.'s purchase of 51 percent control of NBCUniversal. The agency did place restrictions on Comcast's behavior, such as requiring it to license content to online competitors on the same terms that more established rivals get. Those constraints are already expiring; the last will go away next September.
But the presumption that vertical mergers are good for competition has gradually weakened. "Vertical mergers can allow the merged company to use its power at one stage of the value chain to gain leverage in other stages," says Steven Salop, an antitrust expert at Georgetown University Law Center.
CNN and HBO, among other Time Warner properties, are must-haves for any video delivery system, and AT&T's DirecTV is a video delivery system that programmers feel they have to appear on.
One risk is that AT&T could raise the price of Time Warner content or withhold or restrict it from competitors of its DirecTV business, a practice known in antitrust circles as "foreclosure." AT&T could also give Time Warner's programming competitors inferior channel position on DirecTV or deny them the viewer information they need to target their advertising.
Some of those same concerns were behind Justice's opposition in 2015 to Comcast's $45 billion purchase of Time Warner Cable. The government said the combination "would make Comcast an unavoidable gatekeeper for internet-based services that rely on a broadband connection to reach consumers." (The deal was abandoned.)
Salop, who says he has consulted for a party concerned about the deal, disputes AT&T's me-too argument that its merger should get the same treatment as Comcast's NBCUniversal purchase got. "The very fact that the Comcast deal has occurred is a good argument for not letting through another merger," he says.
Even if the tieup did allow AT&T to bargain more effectively with another media giant—for example, in negotiating for each other's content—it would harm smaller companies that aren't vertically integrated, says Barry Lynn, executive director of the Open Markets Institute. Rather than anoint a new giant, he says, the government should go in the other direction and break up Comcast and NBCUniversal.
In last month's earnings release, AT&T Chief Executive Officer Randall Stephenson expressed confidence the deal would go through. He said it would "deliver a better entertainment experience for consumers and more effective targeted advertising." But it's no sure thing that AT&T would win if the case went to trial, says Jennifer Rie, a senior analyst at Bloomberg Intelligence. "The outcome would be super interesting both to the business world and to the antitrust community," she says. "It would mark the first time in almost 40 years that an antitrust regulator sued to block a vertical deal."
If a judge did take the case, Trump's tweets against CNN could haunt the Justice Department by creating the appearance that the government's arguments were politically motivated, whether or not they actually were. Judges have taken Trump's campaign vows to ban Muslim immigrants into account in weighing the administration's attempts to restrict immigration from predominantly Muslim nations.
AT&T is pressing hard for evidence of interference from the White House. It intends to seek court permission for access to communications between the White House and the Justice Department about the takeover, according to people familiar with the matter, who asked not to be named because the deliberations are private.
For the country, though, approval of the AT&T-Time Warner merger shouldn't hang on whether Trump has a "personal vendetta" against CNN, says Mark Cooper, senior fellow at the Consumer Federation of America. "There's a fundamental economic question about market power here."
(
Corrects mention of groups concerned about AT&T-Time Warner deal, deleting Washington Center for Equitable Growth, in third paragraph.
)
BOTTOM LINE -
Long-held theories of what makes a merger beneficial to the overall economy may be tested by the proposed union of Time Warner and AT&T.
Before it's here, it's on the Bloomberg Terminal.
LEARN MORE