Economics
A Russian Power Play in Belarus
Lithuania says a new nuclear plant just across the border is a ploy to restore Moscow's influence in the region.
By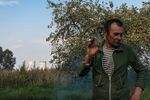 Since breaking away from the Soviet Union in 1990, Lithuania has done its best to draw closer to Western Europe, joining NATO and the European Union, and adopting the bloc's common currency. But less than 30 miles from the capital, Vilnius, looms a symbol of everything Lithuanians thought they'd left behind: the hulking concrete towers of a nuclear power plant being built with Russian money and expertise.
The power station going up across the border in Astravets, Belarus, is creating a sense of déjà vu among Lithuanians, who fear not only a Chernobyl-type disaster from a largely untested nuclear technology, but also a resurgence of Russian influence in the region. Lithuanian President Dalia Grybauskaite has called the plant a "nuclear monstrosity" and an "existential threat to European security."
Concerns over the plant intensified last year when authorities in Belarus failed to disclose that a 330-ton reactor encasement had slipped from a crane and dropped to the ground. The incident initially went unreported, and plans to replace the part were announced only after social media and independent online publications revealed details. "What's worrying is the lack of transparency," says Jonas Radlinskas, a retiree in Vilnius who says his neighbor died after working on the Chernobyl cleanup.
Inspections by the International Atomic Energy Agency haven't revealed any major flaws in the plant, but that's done little to allay Lithuania's concerns. The country of 2.9 million people was among the first Soviet republics to announce its departure from the bloc, and many see the nuclear plant as a ploy by Moscow to extend the region's dependence on Russian energy. Like many of its Baltic neighbors, Lithuania has been working to loosen the grip of Gazprom, Russia's state-owned gas company. The country already generates 26 percent of its electricity from renewable sources, according to the most recent available data. And in August it received its first delivery of U.S. liquefied natural gas.
Belarus, a country of 9.5 million, whose main exports include gasoline, tractors, dairy, and the fertilizer ingredient potash, relies on Russian gas to generate 95 percent of its electricity. Although the 2,400-megawatt nuclear power plant will allow the country to dial back on gas imports, it won't do much to curb its dependence on Moscow, given that it's being built by state-owned Rosatom Corp. and Russia is financing the lion's share of the $11 billion cost. Astravets, which is scheduled to open in 2019, "is very clearly a means for Russia to try to remain influential," says Antony Froggatt, an energy security researcher at Chatham House in London. "Nuclear energy will play an increasingly important geopolitical role in Russian strategy."
Officials in Belarus see the opposition to Astravets as sour grapes, because Lithuania was forced to shut down its own aging Soviet-era nuclear station in 2009 as a condition for joining the EU and later failed to attract investors for a new project near the site. President Alexander Lukashenko—who's ruled Belarus virtually unchallenged since he was elected in 1994—has appealed to Lithuania to stop politicizing the issue. "Let us build this plant together and use it jointly," he said in July. "Let us sit down together and resolve this dispute instead of making the whole world laugh at us." Lithuanians have turned a deaf ear. In April the country passed legislation barring imports of electricity from the plant.
Darius Degutis, a Lithuanian career diplomat appointed ambassador-at-large for Astravets, concedes the design of the two pressurized water reactors is similar to those of nuclear plants commissioned by EU members Finland and Hungary. His country, though, should have been consulted on the location, he says, since more Lithuanians than Belarusians live in the vicinity. "We're not against Belarus building a power plant. Every country has that right," Degutis says. "But the location is very wrong." Officials in Belarus have said geology was one of the principal factors in choosing Astravets.
Even though Belarus suffered more from Chernobyl than any other Soviet republic, many there view the new reactors with a mix of curiosity and pride. The plant, whose cooling towers rise as high as a 40-story building above log house villages and sugar beet fields, has brought rapid development to the tiny provincial town of Astravets. Since 2010, row upon row of pastel-colored apartment blocks, schools, and offices have cropped up to accommodate an expected 2,300 employees, their families, and all those seeking jobs amid the nuclear-powered boom. "Isn't it impressive?" says Eduard Svirid, a press official at the plant, sweeping his hand across the landscape. "Seven years ago there was nothing, just an empty field."
In Belarus, a country where political opposition is stifled, Stanislau Shushkevich is one of the prominent critical voices. In his study in a modest Minsk apartment, where books line the walls from floor to ceiling, he says Belarus needs a nuclear plant, but not at the cost of spoiling relations with its neighbors. The 82-year-old former physics professor, who in 1991 became the first head of independent Belarus, calls the spat "unproductive" on both sides. He believes the plant's location may have been influenced by Russia's desire to reinforce the message that it remains the dominant power in the region. "This is a way to keep the Baltics on their toes," says Shushkevich, who oversaw the withdrawal of Soviet nuclear warheads from Belarus before losing to Lukashenko in 1994. "It's purely political, but Lithuania will have to live with it, as the plant is not going away."
BOTTOM LINE -
Belarus's failure to report an accident at the construction site of a nuclear reactor reinforced Lithuania's concerns about safety at the $11 billion project.
Before it's here, it's on the Bloomberg Terminal.
LEARN MORE