LeBron's New York Subway Encounter With Broker Has Fans Taking Sides
By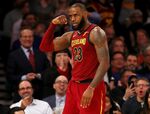 LeBron James and his teammates decided to ride the New York City subway Monday morning and shoot a video of the commute -- entertaining for themselves and fans of the Cleveland Cavaliers, but annoying to a Corcoran Group real estate broker just trying to get to work.
"Can you not?" asked James Michael Angelo, blocking the camera with his hand before abandoning his seat to get away from James, who's won three National Basketball Association championships.
On Twitter, the video has been retweeted more than 14,000 times and received 38,400 "likes." Commenters have taken sides, either surprised that Angelo didn't want to hang with the NBA star or critical of James for bothering an ordinary commuter. Angelo himself took to YouTube to teach the neophyte strap-hanger the rules of commuting (leave strangers alone, no man-spreading) while employing a version of his new catchphrase: "Can you not do these things?"
Before it's here, it's on the Bloomberg Terminal.
LEARN MORE