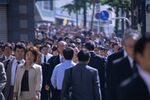 Japan's megabanks have a problem. They just can't seem to bring costs down fast enough.
Mitsubishi UFJ Financial Group Inc. and Sumitomo Mitsui Financial Group Inc. may have surprised investors by reporting increases in second-quarter profit Tuesday, but years of near-zero rates and sluggish revenue growth have left them with unsustainable payrolls.
MUFG posted a 12 percent jump in net income to 337.9 billion yen ($3 billion), buoyed by its 23 percent stake in New York-based Morgan Stanley and a drop in credit costs. Sumitomo Mitsui eked out a 2.2 percent gain to 178.7 billion yen. A day earlier Mizuho Financial Group Inc., the first of the three megabanks to report, unveiled a smaller-than-estimated earnings decline thanks to lower provisions for bad loans and gains on stock holdings.

Despite some dramatic headlines, not enough is being done to reduce staff. That's unsurprising in a country where firing workers is politically unpalatable amid a tradition of lifetime employment.
Mizuho was perhaps the bravest of the bunch, saying Monday that it will cut 19,000 jobs. The other two couched their plans in terms of automation: MUFG aims to have 30 percent of its operations performed by non-human hands by 2024, effectively shedding 9,500 staff, according to Bloomberg Intelligence, while SMFG said it will eliminate work equivalent to 1,500 employees by automating routine tasks.
The numbers look big, until two important points are taken into account. First, the job cuts at Mizuho take place over 10 years. It's worth remembering that Western banks did as much and far more quickly: Bank of America Corp., for instance, cut a quarter of its workforce in the seven years after the financial crisis.
Second, many of these employees will be leaving anyway. Mizuho's workforce isn't young: Many are over 50 years old, meaning much of the headcount reduction can be expected to happen naturally through retirement and other voluntary departures.
While overhead ratios 1 of between 62 percent and 70 percent at Japan's megabanks are comparable to global peers, they have been rising rapidly in recent years, due to a combination of stagnant top-line growth and strategic investments in areas such as information technology, according to  Tetsuya Yamamoto of Moody's Japan.

With their domestic market shrinking, the big three will depend critically on overseas expansion for survival. That will entail costly investments.
Meanwhile, the pressure for further IT outlays to compete with fintech upstarts won't go away. Japan's large lenders are working on setting up digital currencies ahead of the 2020 Olympic Games in Tokyo, aiming to establish a rival payments platform to Alipay by the time thousands of Chinese visitors arrive in the capital.
That leaves just one long-term solution to bring costs down: More job cuts, and faster.
Before it's here, it's on the Bloomberg Terminal.
LEARN MORE