London Has the Most to Lose From Cutting Migration From EU
By
PwC analysis based on ONS population estimate scenarios

50% reduction in EEA migration would have small income effect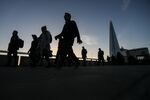 Follow @Brexit for all the latest news, and sign up to our daily Brexit Bulletin newsletter.
Cutting European Union migration to the U.K. by half would disproportionately hurt London.
The capital is the most vulnerable as it has the highest proportion of workers from the European Economic Area, PricewaterhouseCoopers said on Tuesday. In terms of sectors, food manufacturing, construction, hotels, restaurants and warehousing are most reliant on EEA workers.
Overall, a 50 percent cut in EU immigration would have a "relatively small" effect on British income. Average U.K. GDP per capita would be around 0.2 percent smaller by 2030, the equivalent of a 60-pound ($78.60) loss per person. Total growth would be around 1 percent lower, the report said. The analysis is based on projections of different population scenarios from the Office for National Statistics.

The latest official estimate of average net migration in the post-Brexit era from the statistics office has been cut to 165,000 a year from 185,000, but the ONS sees a possibility of it falling below 100,000.
Net migration to the U.K. fell to a three-year low after the Brexit referendum, with departing EU nationals accounting for much of the change. U.K. Prime Minister Theresa May has pledged to leave the EU single market, bringing an end to the free movement of people from the bloc into Britain.
Economists including those at the Bank of England see the reduction in migration squeezing the supply side of the economy, weighing on its potential growth rate.
London has double the proportion of EEA workers compared to the rest of the country, and the capital's construction industry could be particularly badly hit, the PwC report said.
"By identifying the industries and areas that could be worst affected, the government can make informed decisions on post-Brexit migration policy," said John Hawksworth, chief economist at PwC.
Curbing recruitment of high-skilled workers from the EEA could also have negative implications for U.K. productivity. Better training for British nationals would help boost it, though it would take at least 10 years to make up the skills gap, the report said.
— With assistance by Andrew Atkinson
Before it's here, it's on the Bloomberg Terminal.
LEARN MORE