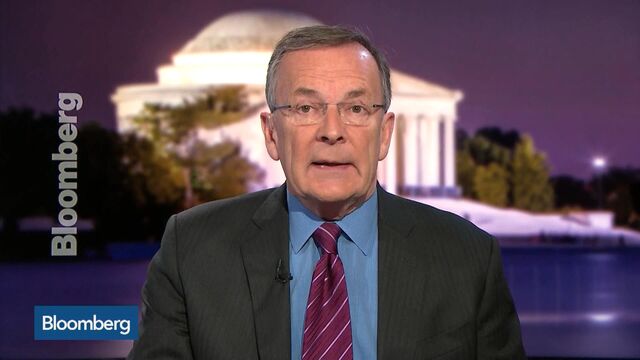 U.S. President Donald Trump repeatedly blasts the North American Free Trade Agreement and threatens to terminate the 1994 accord if talks to rewrite it don't go his way. After six rounds of negotiations, the U.S., Canada and Mexico have made modest progress but remain deeply divided in five areas, including how to settle disputes and the amount of U.S. content in auto production. The terms of the Nafta treaty offer Trump an exit path, but considering the many complications involved, would he really pull the plug?
1. Why hasn't Trump made good on his threat?
He seems to run hot and cold on the pact. Lately, Trump has toned down his anti-Nafta rhetoric. Talks are already being tentatively scheduled beyond March, which had been something of a soft deadline, with some officials and stakeholders saying they could run into 2019. But earlier this year, Canadian government officials thought the odds that Trump would soon give notice of withdrawal had increased. The two countries are locked in a years-long spat over U.S. tariffs on Canadian lumber, prompting Canada to file a sprawling trade challenge against the U.S. at the World Trade Organization, which the U.S. called a "massive attack." More recently, the U.S. International Trade Commission delivered a victory to Canada when it ruled that its exports of Bombardier Inc. airplanes to the U.S. hadn't harmed domestic sales of Boeing Co., blocking tariffs of almost 300 percent that the U.S. had imposed on the jets.
2. Could the U.S. simply quit Nafta?
Any country can leave on six months' notice. Trump hasn't given such notice, and Mexico and Canada have signaled they don't plan to, either. Trump told The Economist in May that he considered giving notice, only to relent after speaking with Canadian Prime Minister Justin Trudeau and Mexican President Enrique Pena Nieto. Under Nafta's rules, withdrawal notice is non-binding, meaning Trump could give it and decide not to withdraw after six months.
3. Could Trump leave on his own? 
The legal footing for that is somewhat slippery. While the U.S. Constitution gives the president broad authority to negotiate treaties and conduct foreign policy, Congress shares responsibility with the executive over international trade, including ratification of trade deals and the imposition of duties. So Trump might need Congress to repeal Nafta's enacting legislation. If a repeal measure came to the floor, there's no guarantee it would pass. Kevin Brady, the chairman of the House Ways and Means Committee, which has jurisdiction over trade, has said he wants the negotiations to succeed. Whether lawmakers could drag their heels -- in effect, block Trump's withdrawal without a vote -- is an "open question," said former U.S. Trade Representative Michael Froman. Either way, congressional opposition might not stop Trump. "My sense is a lot could be done by executive action," Froman said. Others have gone even further to argue that withdrawal power rests entirely with Trump.
4. What if Congress votes no?
No one knows what would happen because the U.S. has never terminated a free-trade agreement. But Trump would almost surely end up in court, said Mark Warner, a Toronto-based trade lawyer with MAAW Law who practices in the U.S. and Canada. "People are going to be in court the next day, asking for an injunction," he said, and lawmakers could be among them. While the U.S. Constitution gives the president broad authority to negotiate treaties and conduct foreign policy, Congress shares responsibility with the executive over international trade, including ratification of trade deals and the imposition of duties. If Trump attempts to end Nafta over their heads, lawmakers could try to sue him in federal court on constitutional grounds.
5. What else would happen if Trump gave notice?
It would unleash a surge of lobbying. The U.S. Chamber of Commerce, for example, has pledged to "fight like hell" to save Nafta. Farm-state lawmakers, manufacturers and executives at multinational companies would also likely pressure Trump to return to the table. But there's the real possibility that it would cause negotiations to collapse. Mexico has signaled it would end talks if the U.S. gives withdrawal notice. The country's July presidential vote would leave little room politically to back off that position.
6. And if the U.S. does leave?
U.S. law allows Trump to immediately restore tariffs to pre-Nafta levels, or he can wait 12 months, after which they automatically revert to World Trade Organization rules, says a 2016 Congressional Research Service report. In many cases, the rates would be only a few percentage points higher. Mexico charges an average of 7 percent on imports, followed by Canada's 4.1 percent and the U.S.'s 3.5 percent. This means U.S. exports to Canada and Mexico would face the highest levies of the three. Some tariffs would skyrocket, though. U.S. dairy exports to Mexico, for instance, would see an average tariff of 21.6 percent. Canada could try to fall back on the suspended Canada-U.S. Free Trade Agreement, a Nafta predecessor, but it also needs updating, so it wouldn't be a quick fix. Canada and Mexico, meanwhile, would likely pivot commercially to other regions where they have deals.
7. What if they reach a deal?
If Trump stays at the table and reaches an agreement, he'll still need to pass it at home. Froman, who negotiated the 12-nation Trans-Pacific Partnership that President Barack Obama concluded and Trump abandoned, said he sees little sign Trump can wrangle the votes in Congress for a new Nafta, especially if U.S. business groups are opposed. "Trade agreements are extraordinarily difficult to get through Congress," Froman said.
8. What's the rush?
U.S. Trade Promotion Authority, the so-called fast track for trade legislation that allows Congress to vote up or down on trade deals but doesn't allow amendments, could expire as early as July 1, 2018. Before that date -- the same day as Mexico's presidential election -- Trump must ask Congress to extend TPA, a request that would be approved unless either chamber specifically votes to block it. With protectionist sentiment on the rise, it could be tough for Trump to get approval for a revamped Nafta without TPA. U.S. midterm elections in November 2018 also add urgency to the talks. The three countries had been trying to get a deal by December 2017.
The Reference Shelf
Before it's here, it's on the Bloomberg Terminal.
LEARN MORE