U.K. Labour Makes Brexit Offer to May as Future in Balance
By
Pound slumps on political uncertainty; volatility spikes

May under pressure from Johnson and Gove to speed EU exit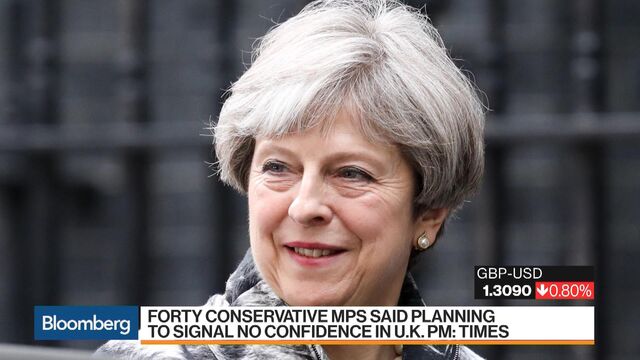 Follow @Brexit for all the latest news, and sign up to our daily Brexit Bulletin newsletter.
The U.K. Labour Party accused Theresa May of lacking the support within her Conservative Party to deliver a Brexit that will protect jobs, offering her a cross-party deal that will only add to pressure on the embattled prime minister.

Keir Starmer, the party's Brexit spokesman, wrote to May on Monday telling her there was a "sensible majority" in Parliament to secure a two-year transition deal for after Brexit. That would allow Britain to stay inside the European Union's single market and customs union after 2019 while it completes trade talks with the bloc. He said the opposition to such an arrangement came from Conservatives.
"Over recent weeks, it has become increasingly clear that you alone do not have the authority to deliver a transitional deal with Europe and to take the necessary steps to protect jobs and the economy," Starmer wrote in the letter, which was released by his office.
May is unlikely to welcome Labour's offer, which highlights the fragility of her position. The premier, who lost two cabinet ministers in a week to different scandals, has received a letter from pro-Brexit rival Boris Johnson demanding a bolder approach to the divorce, the Mail on Sunday reported. And 40 Conservative lawmakers back a challenge to her leadership, The Sunday Times said, just eight short of the number that triggers a vote.
The pound fell 0.8 percent and a measure of volatility a month from now -- when a crunch European summit is scheduled -- spiked to the most since early October.
May's landmark Brexit legislation, the EU Withdrawal Bill, returns to Parliament on Tuesday, where it faces hundreds of proposed amendments to be considered over eight days of debate. Even with the backing of Northern Ireland's Democratic Unionist Party, May only has a slim majority. Tories who want to keep close ties to the EU have put their names on many of the measures, suggesting the government will have to back down or be defeated.

May is caught between Tories who want to soften her Brexit stance and those wanting a clean break with minimal transition and payments to the EU. Foreign Secretary Johnson and Environment Secretary Michael Gove wrote a joint memo to May, warning that the government wasn't working hard enough on Brexit and insisting that the transition should last two years at most.
Gove declined to discuss the letter, reported in the Mail, beyond confirming its existence. But he did signal a willingness to accept higher payments to the EU if that was the price of a Brexit deal.
"I wouldn't block the prime minister in doing what she believed was right," Gove said, adding that May and Brexit Secretary David Davis "should be given the flexibility they need in order to secure that good deal."

Davis was more reticent, telling Sky that the public "would not want me to just come along and give away billions." The idea that the U.K. could offer more has come as Brexit talks remain stalled. Davis waved off the suggestion from EU negotiator Michel Barnier that progress was needed in the next fortnight. 
"In every negotiation, each side tries to control the timetable," Davis said. "The real deadline on this, of course, is December." That's when EU leaders will meet to decide whether the U.K. has made sufficient progress to move on to the next stage of talks.
Barnier, meanwhile, told the French weekly newspaper Le Journal du Dimanche that the key Brexit meeting scheduled for Dec. 14 could be postponed if there's no progress in the next two weeks. He warned that everyone should start to prepare for a "no deal" Brexit. "The absence of a deal is more and more openly evoked in London," Barnier said.
The issue of the Irish border, which many thought had been parked until there was greater clarity on the future of U.K.-EU ties, erupted back onto the agenda last week, as the Irish weigh up how much of their leverage they should use. The Irish want a good deal on the border -- which for them means no frontier at all -- but they also want a future trade deal. A no-deal Brexit would hit Ireland hard.
Brexit Dilemma Hurtles Toward Ireland: to Veto or Not

Irish Prime Minister Leo Varadkar said in an interview with Newstalk on Sunday that if talks drifted into next year, "so be it." In a separate interview with broadcaster RTE that aired on Sunday, Varadkar said Ireland wasn't considering using his veto, at this stage, and Ireland would stand together with other EU countries.
"The one thing we've managed to do in the 18 months since the referendum is to totally align ourselves with all 27 member states," Varadkar said. "From Berlin to Bucharest, they're all behind us, and that puts us in a very strong position."
In an effort to prepare for a post-Brexit world, Trade Secretary Liam Fox will use a visit to the United Arab Emirates on Monday to announce that the total level of financial guarantees available to British exporters will double to 5 billion pounds ($6.6 billion), according to his office. May is due to meet European business leaders.
Before it's here, it's on the Bloomberg Terminal.
LEARN MORE