Mizuho Profit Falls as Bank Confirms Thousands of Jobs Will Go
By and
Japanese bank to eliminate 19,000 positions over a decade

'Growing the top line is difficult,' Mizuho's CEO Sato says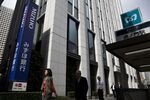 Mizuho Financial Group Inc.'s profit fell and the Japanese bank offered a bleak assessment of the long-term outlook, confirming it will eliminate thousands of jobs to cut costs. 
The nation's third-biggest lender will shed 19,000 positions -- about a quarter of its workforce -- in the next 10 years, it said in a statement, confirming recent media reports. Lending income declined in the fiscal second quarter, underscoring how negative interest rates are making it tougher for Japan's biggest banks to make money from doling out credit.

"Our expense ratio has risen significantly and this remains a major challenge, which is why we need fundamental structural reforms," Chief Executive Officer Yasuhiro Sato told reporters in Tokyo on Monday. "Growing the top line is difficult in this global competitive environment, so it's essential that we improve our productivity."
Like their global peers, Japanese banks are contending with rapid advancements in technologies that are threatening traditional jobs in the industry while also providing an opportunity to make processes more efficient. Rival Sumitomo Mitsui Financial Group Inc. said Monday that it has been using technology to boost productivity and cut costs.
"We expect Mizuho's structural transformation to help control its rising operating expenses," said Shunsaku Sato, a senior credit officer at Moody's Investors Service in Tokyo. The banking group has the worst efficiency ratio -- a measure of costs to income -- among Japan's biggest lenders, according to data compiled by Bloomberg. 

Net income fell 12 percent to 198.4 billion yen ($1.7 billion) in the three months ended Sept. 30, due to the slump in lending and fee businesses. The result still beat the 146.9 billion yen average estimate of five analysts, as the Tokyo-based bank was able to claw back money set aside for bad loans.
Here are key second-quarter figures from Mizuho's report:
Bond and securities trading profit rose 28 percent to 67.1 billion yen.
Lending profit dropped 2.8 percent to 214.6 billion yen.
Fees and commissions slipped 2.1 percent to 147.8 billion yen.
Bank reversed 108.9 billion yen in provisions from bad loans.
Gains on stock holdings fell to 45.6 billion yen from 47.3 billion yen.
Maintained full-year profit target of 550 billion yen.
Shares of Mizuho closed 0.8 percent lower before the announcement. The stock has slipped about 4 percent this year, even as the benchmark Topix index climbed 17 percent.
As part of its restructuring, Mizuho said it will cut about 100 branches over eight years. CEO Sato said the bank will move employees whose roles are reduced by the anticipated improvements in efficiency.
"This is not only about decreasing people," he said. "It's also about redeploying people to the front lines."
BOJ Warning
The Bank of Japan said last month that the nation's lenders may have too many employees and branches, and the overcapacity is contributing to a drop in earnings power that may hurt the financial system.
Sumitomo Mitsui said earlier Monday that it eliminated 400,000 worker hours using so-called robotic process automation and plans to extend that to 3 million, or the equivalent of 1,500 jobs, within three years. The exercise will eventually save about 100 billion yen, it said in a statement.
Other global banks are also cutting jobs because of technology. National Australia Bank Ltd. announced plans to eliminate 4,000 positions earlier this month, citing the need for automation. Sweden's Nordea Bank AB last month announced 6,000 job cuts.
Sumitomo Mitsui and Mitsubishi UFJ Financial Group Inc. are scheduled to post second-quarter results on Tuesday.
Before it's here, it's on the Bloomberg Terminal.
LEARN MORE