May Says U.K. to Retaliate Against Russian Election Meddling
By
Says she's 'unconditionally committed' to European security

'We know what you're doing,' prime minister tells Russia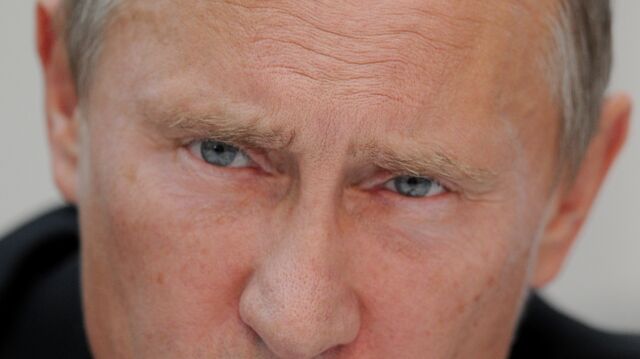 Prime Minister Theresa May told Russian President Vladimir Putin that Britain was ready to fight back against attempts to destabilize Western democracy that she said included "meddling in elections."
"We know what you are doing," May said in a section of a foreign-policy speech in London late Monday that she addressed to Russia. "And you will not succeed. Because you underestimate the resilience of our democracies, the enduring attraction of free and open societies, and the commitment of Western nations to the alliances that bind us."
Her comments mark a division with U.S. President Donald Trump, who said Saturday that he believed Putin's denials of election-meddling were sincere. May took a far harder line, saying Russia was "chief among those" who tried to undermine open societies. She listed not just Russia's 2014 annexation of Crimea, but its fomentation of conflict in southeastern Ukraine, its violations of European airspace, and "a sustained campaign of cyber espionage and disruption." 
At the start of November, Britain's Electoral Commission announced an investigation into Arron Banks, a millionaire insurance entrepreneur who funded campaigns in the 2016 referendum on leaving the European Union. The move followed calls by lawmakers for a probe into whether "dark money'' played a role in the vote. Foreign governments such as Russia and China may have been responsible for a crash in the voter registration website in the weeks before the referendum, according to a parliamentary committee.
The prime minister said that a good Brexit deal would help to underpin Europe's commitment to free societies, but said that the U.K. was "unconditionally committed to maintaining Europe's security."
This is an area where, whatever May's other differences with fellow European leaders over Brexit, she is both in agreement and has something to offer. The U.K. has the second-largest defense budget in NATO, as well as leading intelligence capabilities. It has stationed "tripwire" forces along the bloc's eastern boundary to deter incursions. Britain hopes this will help to win goodwill, especially among countries nearest to Russia.
Before it's here, it's on the Bloomberg Terminal.
LEARN MORE