Chile Businesses Await Return of Billionaire With Midas Touch
By and
Chileans go to the polls in presidential elections on Nov. 19

Former President Sebastian Pinera is ahead in opinion surveys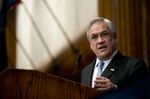 Chile's business community is holding its breath.
Everything points to a victory for their favored candidate, billionaire Sebastian Pinera, in two rounds of voting for the presidency starting Nov. 19, and yet they can't bring themselves to invest just yet.

After four years of the most radical reforms in three decades under President Michelle Bachelet, including increased corporate taxes and moves to empower labor unions, many companies have halted investment, battened down the hatches and waited for calmer waters. Business-friendly Pinera offers that respite. His manifesto pledges a lot of "perfecting," a lot of tinkering and even a promise to reduce corporate taxes, but no landmark reforms.
"Chileans aren't used to so many and such big changes," said Kenneth Bunker, director of the electoral program at Universidad Central. "It was a political shock for the country. The business community wants some calm."

A victory for Pinera would tie in with a broader swing to the right across Latin America, with new governments swept to power in Argentina, Peru and Brazil in the past two years. Like those governments, he pledges greater efficiency, less bureaucracy and a clear set of rules to encourage investment.
Chileans go to the polls in the first round of voting Nov. 19. If no candidate wins a majority, the two leading contenders will go to a run-off Dec. 17. The latest opinion poll by the Centro de Estudios Publicos showed Pinera with 44.4 percent support in the first round, more than double any other candidate.
Renewed Optimism
The central bank expects investment to fall 1.6 percent this year, the fourth consecutive decline, but renewed optimism for next year is easy to find.
The mere thought of Pinera returning for a second term has helped push the benchmark stock index to a record high and revived consumer and business sentiment. The IPSA stock index has rallied as much as 20 percent since the billionaire officially announced his candidacy March 21.
Once in office, Pinera will be hoping those "animal spirits," as the economist John Maynard Keynes described them, plus higher copper prices, will translate into investment. After all, he has done it before.
When Pinera's first term started in March 2010, investment was rising 1.3 percent. Nine months later and it was rising at an annual pace of 21.4 percent.
"The better prospects for 2018 has led companies to evaluate the realization of new investments, although the number of them that are taking place today is low," the central bank said this month in a survey of corporate sentiment. "In some cases," those investment projects depend on the electoral results.
The Competition
Pinera faces seven other candidates including Alejandro Guillier, the leading contender for the ruling alliance, and Beatriz Sanchez, head of a left-wing coalition that didn't even exist a year ago. Guillier has pledged to continue the reforms of Bachelet's administration, while Sanchez has pledged to go even further, introducing a 5 percent royalty tax on the mining industry.

Business leaders have it very clear whose side they are on.
Should Pinera not win, "the probability that we have a collapse in share prices is high," president of the Santiago Stock Exchange, Juan Andres Camus, said last month.
That is unlikely to happen. With the center-left candidates constantly bickering, voter turnout is forecast at just 45 percent, one of the lowest since the return of democracy in 1990, with many on the left choosing to stay at home for both rounds of voting. An opinion poll by the Centro de Estudios Publicos released last month showed Pinera well ahead of Guillier in preferences for the run-off Dec. 17.

The Bulldozer

As the prospect of a Pinera victory looms, many care more about what he won't do, than what he will.
"We would expect upside potential from Mr. Pinera's market-friendly approach and likely efforts to avoid reform that could interfere with the efficient functioning of the private sector," Mario Castro, an analyst at Nomura, said in a report earlier this month. There was less mention of what reforms he would implement.
Pinera's first term in office may be a good template for his second. During that period, soaring copper prices pushed economic growth to an average 5.4 percent, cut unemployment, slashed the poverty rate and financed reconstruction after the 2010 earthquake. At the same time, a wave of student protests demanding better quality and free higher education made him one of the most unpopular presidents on record.
Ask people what his flagship economic policies were and many are stymied, eventually answering a reduction in bureaucracy to ease bankruptcy laws and enable people to set up a company in one day. The reforms facilitated growth, they weren't transformative.
Now, he is pledging more of the same.
"We are going to banish the culture of the bulldozer," Pinera said earlier this year, referring to the current government's policy of overhauling the economy. "Bulldozers were designed to destroy, and we don't want to destroy anything. We want to build."
Keep Calm
Still, Pinera's election won't open the floodgates to investment, said Felipe Alarcon, chief economist at EuroAmerica in Santiago.
Most of the investment will be limited to the mining industry, as copper prices rally, and construction, as the government steps up infrastructure concessions and new mines are built. With the peso also rallying, making local companies less competitive, other industries are unlikely to jump on the bandwagon.
Moreover, streets protests will probably return as Pinera reins in reforms that had boosted social-welfare provisions, Nomura said. That could raise concern that Chileans will turn against the right-wing coalition before elections in 2021, opening the door for a swing back to the left -- and possible a more radical left.
Give it a year or two, and industry may be using the next election as an excuse for not investing.
As Gemines said in a report this month summing up the 2017 election, "the great dilemma that faces the country is who will govern from March 11, 2022."
Before it's here, it's on the Bloomberg Terminal.
LEARN MORE