U.S. Is Said to Suggest Ways AT&T Could Win Time Warner Approval
By and
One alternative might be to sell Turner, then form venture

AT&T's Stephenson has said he wouldn't sell Turner, DirecTV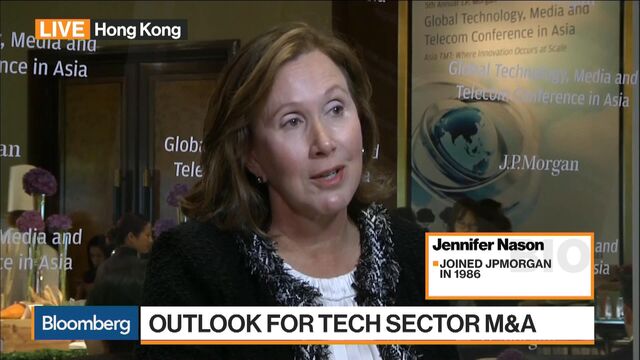 The U.S. Justice Department suggested to AT&T Inc. officials that they figure out how to get the benefits they're seeking from their proposed merger with Time Warner Inc. without being able to own CNN, TBS and other Turner channels, said people familiar with the discussions.
Antitrust officials advised AT&T to explore alternatives such as selling Turner and then forming a joint venture with the newly separated company, said two people, who asked not be named because the conversations are private. Such a venture could sell advertising on the Turner networks to exploit AT&T's user data, without the telecommunications giant owning the broadcasting unit, said one of the people.
The companies aren't actively discussing scenarios under which AT&T would sell the Turner or DirecTV satellite television units, which Chief Executive Officer Randall Stephenson has said he wouldn't do, the people said.

AT&T's shares have slipped 8.7 percent since the deal was announced in October 2016. During that same period, Time Warner has gained 1.3 percent.
Representatives for AT&T and the Justice Department declined to comment. A Time Warner representative didn't respond to a request for comment outside regular business hours.
The proposed tie-up would reshape the media landscape by uniting the biggest pay-TV distributor with the owner of CNN, Warner Bros., TNT, TBS and HBO. It represents the Justice Department's first major antitrust test under President Donald Trump, who as a candidate criticized the combination for consolidating too much power in one company and has repeatedly called CNN's coverage of his administration "fake news."
Trump Comments
Trump on Saturday indicated the department may try to block the deal, saying "it will probably end up being maybe litigation, maybe not."
On Sunday, National Economic Council Director Gary Cohn said the president isn't participating in the review.
"The White House is not involved," Cohn said on Fox's  "Sunday Morning Futures." "That's a DOJ effort and it's up to the DOJ what happens there."
Thirteen months into the review of the proposed $85.4 billion merger, antitrust officials made it clear to AT&T executives last week that they don't intend to allow the deal to go forward in its original form. The officials are concerned that AT&T, the largest satellite TV provider in the U.S. and one of the biggest wireless carriers, could hold back programming on channels such as CNN, TNT and TBS from rival pay-TV providers such as Comcast Corp., stifling competition and consumer choice, Bloomberg has reported.
One argument AT&T has made in seeking approval is that it can use its data about internet and wireless subscribers to more accurately target advertising to consumers, earning higher ad rates and competing more successfully with digital platforms such as Alphabet Inc.'s Google and Facebook Inc.
AT&T has said it intends to broadly distribute Time Warner programming, and isn't interested in using the programming exclusively.
Court Battle
The Justice Department has made it clear to AT&T that absent a negotiated solution that involves the sale of Turner or DirecTV, it will sue to block the Time Warner merger, perhaps before the Nov. 23 Thanksgiving holiday, the people said.
Under U.S. antitrust law, if officials have concerns a merger would hurt competition and consumers, they must file a lawsuit in federal court and persuade a judge to block the deal.
Stephenson has said he would fight such a move in court.
Makan Delrahim, Trump's new antitrust chief, joined the review process late because he wasn't confirmed by the Senate until September. His arrival followed months of investigation by staff attorneys and economists at the antitrust division and discussions about conduct remedies, which Delrahim doesn't favor, to secure a level playing field for rivals.
The Justice Department believes it has a strong case that an acquisition by AT&T of all of Time Warner would be anti-competitive, one of the people said. Antitrust officials may cite claims the department brought against DirecTV for colluding with other pay-TV providers in the Los Angeles area to not pay for Charter Communication Inc.'s Dodgers baseball channel. DirecTV settled the case in March. AT&T denied the charges.
Lengthy Delay
Antitrust officials may also use comments Time Warner executives made opposing Comcast's acquisition of NBC Universal eight years ago. Rival media companies are also opposed to the AT&T/Time Warner merger, according to one of the people.
Some former Justice Department officials and antitrust attorneys believe the antitrust division may have a weak case if it sues to block the deal. AT&T and Time Warner don't compete directly, and so-called vertical mergers aren't often found to be anti-competitive.
Should a case proceed it might take several months to reach a decision, after which either side could appeal, further delaying a decision about the proposed deal, which is already more than a year in the works.
— With assistance by Scott Moritz, Gerry Smith, David McLaughlin, and Craig Giammona
Before it's here, it's on the Bloomberg Terminal.
LEARN MORE