Trump Says He Stands With Intel Agencies on Russia Meddling
By and
Intelligence agencies now led by 'fine people,' Trump says

President briefly meets Putin at economic summit in Vietnam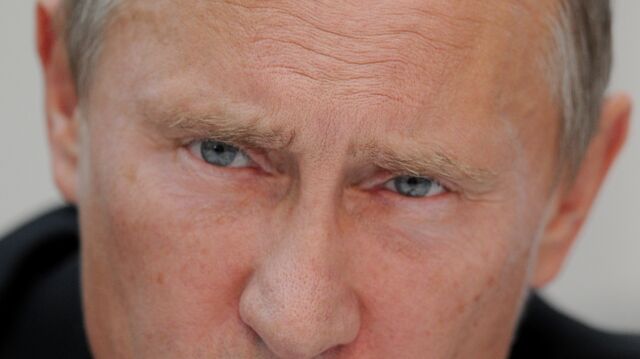 President Donald Trump once again waded into the controversy of whether he thinks Russia meddled in last year's election, saying on Sunday that he believes "very much in our intelligence agencies."
A day earlier, the U.S. leader said that Vladimir Putin believed he didn't interfere, prompting questions about whether Trump actually took the Russian president at his word. The two leaders had met on the sidelines of the Asia-Pacific Economic Cooperation summit in Vietnam.

Trump's comment drew fire even from some Republicans, including Senator John McCain of Arizona, who questioned why the president would believe of a former KGB agent over his own intelligence agencies. Central Intelligence Agency Director Mike Pompeo, a Trump appointee, also reiterated that the agency stood behind its initial finding that Russia interfered.
Trump, who often sidesteps direct questions on Russia's culpability, said Sunday that all he meant was that Putin himself clearly believed that to be the case despite a U.S. intelligence assessment to the contrary. At the same time, Trump said that initial reports saying 17 agencies concurred in the assessment turned out to be false, and that it was only four agencies.
"As currently led by fine people, I believe very much in our intelligence agencies," Trump told reporters Sunday in Hanoi. He said he didn't want to "stand and start arguing" the point with Putin during their meeting, adding that it was "very important" to get along with Russia, China and other countries to address global problems.
'Get to Work'
"What he believes is what he believes," Trump said of Putin. "What I believe is that we have to get to work. And I think everybody understood this that heard the answer. We have to get to work to solve Syria, to solve North Korea, to solve Ukraine, to solve terrorism."
The accusations about Russia have triggered a special counsel investigation and several Congressional probes that have stayed in the headlines during Trump's 11-day swing through Asia. Trump has previously dismissed the conclusions of multiple U.S. intelligence officials that Russia sought to hurt Democrat Hillary Clinton and ultimately to help him win the presidency. He said "political hacks" led some of those agencies, including John Brennan, CIA director under President Barack Obama, James Clapper, former U.S. director of national intelligence, and James Comey, the FBI director fired by Trump in May.
"As to whether I believe it or not, I'm with our agencies," Trump said Sunday.
'Can Be Played'
Brennan said Trump is showing he "can be played" by Putin when he doesn't directly acknowledge Russian interference in the 2016 election.
"I think he's giving Putin a pass," Brennan, CIA director under President Barack Obama, said Sunday on CNN's "State of the Union." "It demonstrates to Mr. Putin that Donald Trump can be played by foreign leaders who are going to appeal to his ego and to try to play upon his insecurities, which is very, very worrisome from a national-security standpoint."
Brennan said Putin is "very clever" by flattering Trump, and that the president could also be intimidated by the Russian leader or afraid of what might come out of the various investigations.
"It's either naivete, ignorance or fear in terms of what Mr. Trump is doing vis-a-vis the Russians," Brennan said.
On the same program, Clapper said the chances that Russia will pursue like interests with the U.S. are "slim and none." He said the threat Russia poses to the U.S. and its democracy is "manifest and obvious" and that to say otherwise "is astounding and in fact, poses a peril" to the country.
No Good Intentions
"The Russians do not harbor good intentions toward the United States, and there shouldn't be any illusions or any ambiguity about that -- and our president fosters that ambiguity," Clapper said.
Despite Trump's campaign pledge to improve battered relations with Russia, ties between the two Cold War foes have become more tense during his first year in office after the U.S. tightened sanctions in response to the alleged election meddling. Russia responded with U.S. diplomatic expulsions, and the two sides have since struggled to make progress on most issues.
Following their brief talks in Vietnam, Trump and Putin issued a joint statement in which they agreed to support a political reconciliation in Syria, while maintaining the existing two-nation communication channels used to fight Islamic State.
'Haters and Fools'
Putin on Saturday told reporters that it was important for the two leaders to sit down for formal talks on a range of issues. He dismissed the probe into Russian election meddling as nonsense fueled "political infighting" in the U.S.
"Our relations are still in crisis," Putin said of the U.S. "Russia is ready to turn the page and move on."
Trump on Sunday shared those sentiments.
"I feel that having Russia in a friendly posture, as opposed to always fighting with them, is an asset not a liability," he told reporters. Earlier, he said on Twitter that only "haters and fools" can't see the benefits of a good relationship with Russia.
Still, it was Trump's comment from Saturday that drew criticism back home. Speaking after his meeting with Putin, Trump said: "Every time he sees me he says, 'I didn't do that,' and I really believe that when he tells me that, he means it."
U.S. Representative Adam Schiff of California, the top Democrat on the Permanent Select Committee on Intelligence, said Trump understands that he benefited from Russian efforts to influence the election result.
"Today, President Trump said he would accept Putin's denials of Russian meddling in our election, over the solid evidence of our own intelligence agencies," Schiff said in an emailed statement. "He lamented that even raising the issue was insulting to Putin."
Michael McFaul, U.S. ambassador to Russia from 2012 to 2014 and now a political science professor at Stanford University, said in a Twitter message that Trump "believes a KGB agent but not his own CIA? Not good."
— With assistance by Todd Shields, Ilya Arkhipov, and Mark Niquette
Before it's here, it's on the Bloomberg Terminal.
LEARN MORE