The Next Big Bond Trade: Fade the Flatness on Risk-Parity Pain
By
Treasury futures show end-of-week surge in tactical steepeners

Risk-parity deleveraging could trigger further spread widening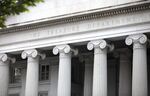 The Treasury market's longest flattening streak in more than six years is signaling to some that one of the best performing trades of 2017 has stretched too far, too fast.
Investors piled into tactical steepeners at the end of last week after the spread between the belly and long-end of the curve narrowed for 10 straight sessions. On Thursday, a trader executed large block trades in 10-year and ultra-long futures, creating a bet that's poised to gain or lose $2 million for each basis point move in the yield gap. The wager was already about $6 million in the money by week's-end. Friday's open interest data showed a jump of 53,013 contracts in new risk across 10-year futures alone.
The bets makes sense from a positioning perspective after the most recent CFTC data showed speculators extended net short wagers to a record in five-year futures. Legging into a steepener would provide a means for covering such a swollen short-base. And the simultaneous selloff in bonds and stocks over the past couple of sessions has brought about the usual murmurs of risk-parity deleveraging. If these funds start to feel the need to cut risk just as the gamma flattening squeeze looks set to pause, the bear steepening move could have further to run.

Technicals are also supporting a tactical steepener play. A gauge of asset-price momentum know as the relative strength index recently broke above oversold levels for the 5-to-30 year spread, signaling to some strategists that the extreme flattening of recent weeks is set to reverse. And on a long-term chart, Thursday's bounce off 77 basis points, the narrowest spread in a decade, also marked the 61.8 percent Fibonacci-retracement level from the 2000 lows to the 2010 highs.

For bond traders wondering where their next 10 basis points of profit may lie before the end-of-year lull, short-term tactical curve steepeners are suddenly in vogue.
Before it's here, it's on the Bloomberg Terminal.
LEARN MORE