Slovenia's President Clinches Re-Election in Tight Runoff
By
Pahor wins 53% after missing outright victory in first round

Defeated rival Sarec may now run for parliament next year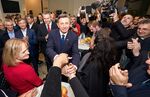 Borut Pahor became the first Slovenian president in two decades to win re-election, defeating an ex-comedian-turned-small-town-mayor in a tight runoff in the European Union and euro-region nation.
With almost all votes counted, Pahor -- a former Social Democratic prime minister -- was on 53 percent to Marjan Sarec's 47 percent, the election commission said Sunday on its website. Sarec, who prevented an outright victory for Pahor in the first round three weeks ago, had vowed to shake up the political establishment and replace the head of the central bank.
"We know what to expect from Pahor as he'll do pretty much as he did in the past, such as not meddling too much into daily politics and shying away from controversy," Otilia Dhand, an analyst at Teneo Intelligence in Brussels, said by phone. "The result confirms Slovenian voters are firmly placed in the center-left of the political spectrum."
While largely ceremonial, presidential powers in the ex-Yugoslav country of 2 million people, birthplace of Melania Trump, include proposing candidates to lead the central bank. That role carries with it a seat on the European Central Bank's rate-setting panel. Sarec's narrow loss hints that there may be appetite for newcomers to test Prime Minister Miro Cerar's three-party coalition at parliamentary elections next year. The government is set to become the first to finish a full term since 2007.
The yield on Slovenia's benchmark euro-denominated bond maturing in March 2027 was little changed at 0.864 percent, data compiled by Bloomberg show. It hit an all-time low of 0.815 percent on Nov. 8.
Comeback Story
Pahor, 54, has completed an unlikely comeback. Forced out of government in 2011 as voters rejected his plan to tackle fallout from the global financial crisis, he recovered to win the presidency just a year later.
The former fashion model has connected with voters by hiking 700 kilometers (430 miles) across the nation's Alpine terrain, documenting his exploits via a slick social media campaign. Sarec, the 39-year-old mayor of Kamnik -- a town of 29,000 people north of the capital, Ljubljana -- accused Pahor of dodging tough decisions on health care, corruption and a 3.2 billion-euro ($3.7 billion) bank rescue.
Sarec, who's coy on creating his own party, said he may now run for parliament. Pahor's campaign helped the Social Democrats climb to the top of opinion polls. Cerar's party, which governs alongside the Social Democrats and Desus, is currently third, while ex-Premier Janez Jansa's Slovenian Democratic Party is second. The ruling alliance last week backtracked on a pledge to privatize the country's No. 1 lender, Nova Ljubljanska Banka d.d., a sale that most Slovenians oppose.
Pahor backs the privatization, part of a deal with the European Union under the 2013 bailout. Speaking the week before the election decider, he said he's prepared to re-appoint Bostjan Jazbec as central bank governor when his term ends in 2019. Pahor said the nomination would hinge on Jazbec enjoying support among parties in parliament.
"I won't change my style as president," Pahor, who'll now begin a second and final five-year term, said Sunday in televised comments. "My voice will be heard a bit more than in the past but not too much. I'll speak out when I believe I can help solve a problem and not deepen existing divisions."
Before it's here, it's on the Bloomberg Terminal.
LEARN MORE