Japan's Abe Meets Taiwan Envoy Hours After Xi Warning
By
Talks for 30 minutes with People First Party head James Soong

China-Japan ties are chilly, but less hostile than in 2012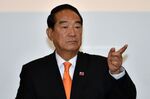 Japanese Prime Minister Shinzo Abe held a meeting with a Taiwanese politician Sunday, hours after Chinese President Xi Jinping warned him not to break with past consensus on what Beijing regards as a renegade province.
Abe held a 30-minute meeting with James Soong, head of the People First Party on the sidelines of the Asia-Pacific Economic Cooperation summit in Danang, Vietnam, according to Japan's foreign ministry. After the meeting, the prime minister left for summits in the Philippines.
The meeting risks criticism from China even as Abe says he wants deeper cooperation on the threat from North Korea. In a summit with Xi the previous night, Abe received no clear response to a proposal that he visit China next year to mark the 40th anniversary of a friendship treaty.
Ties between China and Japan are less hostile than when Abe took office five years ago amid anger over a worsening territorial dispute. But he hasn't succeeded in taking the chill off relations with his country's biggest trading partner.
In the meeting, Abe told Soong that Taiwan was an important partner with shared values and close economic ties. Both sides agreed there had been progress in ties over the past year and Abe said he looked forward to further strengthening, while maintaining the unofficial nature of the relationship.
Xi told Abe on Saturday that the stable development of China-Japan ties was in the interest of both countries and that both sides should "work tirelessly to create conditions for the continued improvement of Sino-Japanese relations," according to remarks published by the People's Daily's web portal.
Read about South Korean leader's planned visit to China
"The key to improved Sino-Japanese relations lies in mutual trust," Xi told his counterpart, urging Japan to deal with questions over history and Taiwan according to consensuses already reached by the two sides.
In March, China's foreign ministry said it lodged a "serious" protest withJapan after Vice Minister for Internal Affairs and Communications Jiro Akama attended a cultural exchange meeting in Taiwan. On Jan. 1, Japan also changed the name of its mission in Taipei to the Japan-Taiwan Exchange Association, which could be seen as implying state-to-state relations.
The Japanese foreign ministry statement referred to Taiwan as Chinese Taipei in line with diplomatic protocol.
— With assistance by Peter Martin
(
Corrects Soong's title in headline.
)
Before it's here, it's on the Bloomberg Terminal.
LEARN MORE