South Korea Leader to Visit China as Japan's Abe Left Waiting
Peter Martin and Isabel Reynolds
Moon accepts December invitation; North Korea a big topic

Abe suggested to Xi at summit he should visit China next year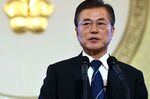 South Korean President Moon Jae-in will visit China for a summit in December, his office said, with tensions over North Korea's nuclear weapons program high on the agenda.
The agreement was disclosed as Moon and Chinese President Xi Jinping met Saturday on the sidelines of the Asia-Pacific Economic Cooperation summit in Danang, Vietnam. In a sign that tensions remain between Tokyo and Beijing over their wartime history and territorial disputes, Prime Minister Shinzo Abe proposed he visit for his own meeting with Xi, but didn't receive an invitation.
Abe didn't hold a meeting with Moon at APEC, and Seoul and Tokyo have their own issues over history and territory. Such frictions could complicate efforts to get a united push for the regime in North Korea to abandon its nuclear weapons and missiles.
Still, Moon's planned visit to China coincides with an improvement in relations after the nations agreed to put aside a dispute over the deployment of a U.S. missile shield on South Korean soil. China earlier had protested the installation of the system known as Thaad -- which Seoul insists is for defensive purposes only against Pyongyang -- and taken steps to punish it economically.
The nuclear ambitions of North Korea will likely top the agenda of a Moon-Xi meeting. Both have urged caution and dialog as U.S. President Donald Trump and North Korean leader Kim Jong Un engage in an escalating war of words. 
'Twisted Fantasies'
In a speech to business leaders at the summit on Friday, Trump called on governments in the region to unite against Kim and "not be held hostage to a dictator's twisted fantasies of violent conquest and nuclear blackmail."
China and South Korea have agreed to restore bilateral relations to a "normal development path swiftly," the foreign ministry in Seoul said in a statement in October. But Japan, whose relations with both neighbors have often been fraught, appeared to make little progress toward its hopes of hosting a trilateral summit by the end of the year.
"We hope that South Korea will properly match its words with actions," Chinese Foreign Ministry spokeswoman Hua Chunying said at a regular press conference on Oct. 31, noting that South Korea had agreed not to make further deployments of the missile shield. "We hope that the two sides can work together to put the two countries' ties on a normal track of development at an early date."
Better relations with China will help the nation withstand potential rough economic conditions next year, South Korean Vice Finance Minister Ko Hyoung-kwon told Bloomberg News in an interview last week. 
Economic Ties
China is South Korea's largest trading partner, buying about a quarter of the country's exports. The deployment of Thaad has contributed to a 0.4 percentage point drop in South Korea's gross domestic product growth in 2017, according to Bank of Korea estimates, preventing it from growing at the fastest pace since 2011.
Abe and Xi smiled and nodded during the opening remarks of their own meeting, which Abe later described as frank, relaxed and friendly. But his proposal that they pay mutual visits next year -- the 40th anniversary of a friendship treaty between them -- was met only with references to the importance of high-level exchanges, he told reporters.
While ties between Japan and China have improved since a long-running territorial dispute flared in 2012, Abe hasn't succeeded in dispelling the chill. And Japan's relations with South Korea hit a sour note this month. A banquet given for Trump featured a menu of shrimp caught in territory disputed with Japan, while the U.S. president was also introduced to a former victim of the trafficking of women to Japanese imperial army brothels before and during World War Two.
Abe nevertheless said it was significant that he and Xi had agreed to deepen cooperation on North Korea, adding he would continue to make efforts to improve ties with China.
"I want to take bilateral ties to a new level through these kind of high-level exchanges," Abe told reporters, adding he planned to meet Chinese Premier Li Keqiang in the Philippines in coming days. "I want to use all opportunities for dialogue because our two countries have great responsibility for the peace, stability and prosperity of the region and the world."
— With assistance by Kanga Kong
Before it's here, it's on the Bloomberg Terminal.
LEARN MORE