Bad Nafta Outcome Could Hit Cooperation on Security, Mexico Says
By and
Mexico is seeking good result in Nafta talks, Videgaray says

Foreign minister speaks in interview at APEC in Vietnam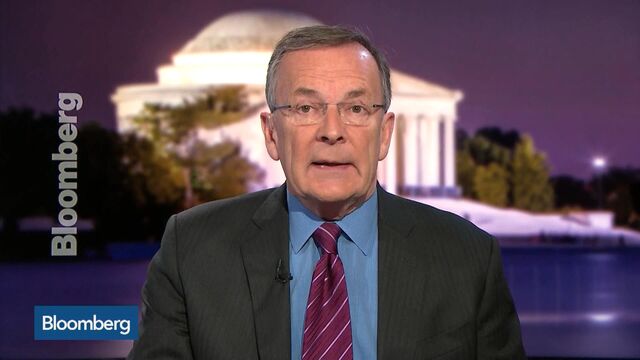 If the renegotiation of the North American Free Trade Agreement encounters trouble, it could impact other areas of cooperation with the U.S. such as security and immigration, according to Mexican Foreign Minister Luis Videgaray.
"It's good for Mexico that we cooperate with the U.S. on security and also on migration and many other issues," Videgaray said in an interview Saturday on the sidelines of the Asia-Pacific Economic Cooperation summit in Vietnam. "But it's a fact of life and there is a political reality that a bad outcome on Nafta will have some impact on that," he said. "We don't want that to happen and we're working hard to get to a good outcome."

Videgaray told reporters earlier this week that Mexico is prepared for the end of Nafta if it can't reach a deal with the U.S. and Canada that benefits the nation. The three countries in August began talks to rework the pact after President Donald Trump pledged during the 2016 campaign to overhaul or end it. Trump blames the pact for millions of lost manufacturing jobs in the U.S. and a more than $60 billion trade deficit with Mexico.
Negotiations with the U.S., scheduled to continue through March, grew contentious during the most recent round. In those talks in the Washington area, the U.S. made controversial demands on dairy, automotive content, dispute panels, government procurement and a sunset clause, under which Nafta would expire after five years unless the parties can agree to extend it. The fifth round of Nafta talks is scheduled to begin in Mexico City next week.
Peso Tumble
Mexico felt the initial brunt of Trump's presidency earlier this year after the peso tumbled amid his threat to scrap Nafta and make Mexico pay for a border wall to keep out undocumented immigrants. The currency has since made a comeback on expectations of a potential favorable outcome for Nafta talks.
Read more: These Elections Could Reshape Latin America
Asked about Mexico's expectations for the next round, Videgaray replied: "We acknowledge the process and respect the process. As in any other trade negotiation it's natural for the parties to have differences in the beginning and the negotiation is about that."
"We all agree -- Canada, Mexico, the U.S. -- that we want this to be a good deal for all of us," he added. "Mexico is being constructive, we're serious about the negotiation. We have some differences, and we've been quite public about that."
Videgaray downplayed whether thornier issues could be put off until a later round in order to make some progress.
'Some Successes'
"That's not actually how it works," he said. "It works simultaneously on all the issues, there are over 20 groups working on the different issues. Some of them will complete their tasks, we expect to have some successes in the fifth round. Others will make progress."
Read more: Mexico's Big Election Issues Are Gangs, Graft, Trump
Videgaray, a 49-year-old, MIT-trained economist, has long been considered to be the master strategist behind President Enrique Pena Nieto. He served as Pena Nieto's first finance chief when he was governor of the State of Mexico, then as his 2012 campaign manager and later finance minister in his first three years of his presidency.
Given his closeness to Pena Nieto and his financial experience, Videgaray's name has come up as a potential candidate to replace central bank Governor Agustin Carstens, who is set to leave at the end of this month, or become the Institutional Revolutionary Party's candidate for president in 2018.
Videgaray has forged relationships with both Trump, who has referred to him as a "wonderful man," and Trump's son-in-law and adviser Jared Kushner, who Videgaray in March called "a very smart person, somebody that I know and trust personally."
Kushner and Videgaray helped arrange the August 2016 meeting between then-candidate Trump and Pena Nieto in Mexico City. While Videgaray resigned days later amid criticism of the visit, he was brought back into the cabinet in January.
Still, Videgaray brushed off the prospects of taking either role. Asked whether he'd be interested in the central bank post, he replied he was happy being foreign minister. On becoming a 2018 candidate he simply said: "No." And he wouldn't be drawn into whether he was confident about the party's 2018 prospects.
"In my current position as foreign minister, it's not my job to talk about who might win or lose the election," he said. "I just want the election to happen on a very, very robust legal framework and having a very free democratic process. That's all I care about as foreign minister."
Before it's here, it's on the Bloomberg Terminal.
LEARN MORE