Slovenian President Set to Beat Ex-Comic in Runoff
By
Sunday's vote pits incumbent Pahor against Kamnik mayor Sarec

Challenger opposes reappointing ECB's Jazbec to central bank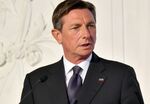 Slovenian President Borut Pahor has one obstacle on his path to re-election: a comedian-turned-mayor who vows to shake up the political establishment and replace the head of the central bank.
Pahor, a former Social Democrat prime minister, is set to win Sunday's runoff with more than 56 percent of vote, a poll by Episcenter conducted for the Delo newspaper showed Friday. He would be the first Slovenian president in 15 years to claim a second term. In the first round of voting three weeks ago, he fell short of the 50 percent needed for outright victory, garnering 47 percent. His rival in the European Union and euro-area nation, Marjan Sarec, got 25 percent.
"Pahor appears to have a decent lead, but not an unbeatable one," Otilia Dhand, an analyst at Teneo Intelligence in Brussels, said by phone. "The runoff is thus a battle to watch rather than a foregone conclusion."
While largely ceremonial, presidential powers in the ex-Yugoslav country of 2 million people, birthplace of Melania Trump, include proposing candidates to lead the central bank. That role carries with it a seat on the European Central Bank's rate-setting panel. The runoff will also hint at voters' appetite for potential newcomers to test Prime Minister Miro Cerar's three-party coalition at parliamentary elections next year. The government is set to become the first to finish a full term since 2007.
Comeback Tale
The 54-year-old Pahor has already completed an unlikely comeback. Forced out of government in 2011 as voters rejected his plan to tackle fallout from the global financial crisis, he recovered to win the presidency just a year later. The former fashion model has connected with voters by hiking 700 kilometers (430 miles) across the nation's Alpine terrain, documenting his exploits via a slick social media campaign.
Pahor's upstart challenger is the 39-year-old mayor of Kamnik, a town of 29,000 people located 22 kilometers north of the capital, Ljubljana. Sarec, who's coy on whether he'll create a party to run for parliament, accuses the incumbent of dodging tough decisions on health care, the corruption commission and a 3.2 billion-euro ($3.7 billion) bank rescue.
Questioning the generosity of that bailout, which came in 2013 as Slovenia teetered on the brink of a Greece-like collapse, Sarec told Bloomberg this week that the central bank needs "new people." Governor Bostjan Jazbec's term ends in 2019.
Bank Controversy
The two candidates sparred in a televised debate Thursday evening about the fate of the country's biggest lender, which received state aid four years ago and had been slated for privatization until the government halted the sale this week.
Pahor favors the sale of Nova Ljubljanska Banka d.d., saying "we would have a good bank and not a state-owned one." Sarec opposes the move on the basis that "now isn't a good moment to sell as Slovenia wouldn't get back the money it spent on its rescue."
While Pahor is avidly pro-European, Sarec has said he's against an "EU federation." That stance chimes more with the nationalist rhetoric that's arisen recently in other parts of ex-communist eastern Europe, such as Poland and Hungary.
After failing to avoid the runoff, Pahor said he believes he still stands a good chance of success. Sarec has other ideas.
"I entered this race because I want to change things," the challenger said in an emailed response to questions.
Before it's here, it's on the Bloomberg Terminal.
LEARN MORE