Podesta Group Unravels as CEO Plans to Take Clients to New Firm
By , , and
Fritts told employees not to expect pay after November 15

Tony Podesta stepped down from firm amid Mueller probe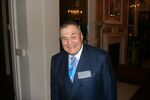 Less than two weeks after Democratic mega-lobbyist Tony Podesta stepped down from his firm amid questions over its foreign work, one of Washington's most prominent lobbying shops is unraveling as its employees try to reconstitute under new leadership.
Chief Executive Officer Kimberly Fritts told employees Thursday afternoon she is working on launching a new firm that would take many of Podesta's staff and clients with her, said two people familiar with the meeting. She told employees they shouldn't expect a paycheck past Nov. 15, the people said.
It was not an entirely unexpected moment for the 30-year-old firm after Podesta's sudden resignation Oct. 31, when he announced he was stepping down following an indictment issued against Trump's former campaign manager Paul Manafort by U.S. Justice Department Special Counsel Robert Mueller.
The charges detailed Manafort's clandestine influence campaign on behalf of Ukraine's deposed president Viktor Yanukovych, including work with two unidentified companies that "lobbied multiple members of Congress and their staff about Ukraine sanctions, the validity of Ukraine elections, and the propriety of Yanukovych's imprisoning his presidential rival."
Mueller's indictment identified the firms as Company A and Company B and said they were allegedly paid by Manafort with more than $2 million in offshore funds. A person familiar with the matter confirmed that Company B is the Podesta Group, which disclosed in April that it had worked for the European Centre for a Modern Ukraine. Company A is Mercury Public Affairs LLC, said another person familiar with the matter.
The Podesta Group represents some of the the world' biggest companies, including Alphabet Inc.'s Google, Altria Group Inc., Wells Fargo & Co., Lockheed Martin Corp., Pfizer Inc. and other representatives of some of the most active industries in Washington.
Podesta's next steps were not discussed at the meeting, one person said. A spokeswoman for Tony Podesta and the Podesta Group declined to comment.
Podesta is the brother of John Podesta, the chairman of Hillary Clinton's presidential campaign, who also served as White House chief of staff under President Bill Clinton and was counselor to Barack Obama.
Before it's here, it's on the Bloomberg Terminal.
LEARN MORE