Excused Menendez Juror Says Senator Should Be Acquitted
By and
Excused for vacation, juror says U.S. prosecutors are corrupt

Juror says panel could still convict for false statements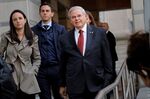 Senator Robert Menendez is "not at all corrupt'' and should be acquitted of all charges against him at his bribery trial, according to a juror excused Thursday from the panel during jury deliberations because of a previously arranged vacation.
"According to all the evidence that they brought into the courtroom, Senator Menendez is not guilty for all the charges they brought,'' Evelyn Arroyo-Maultsby, who was Juror #8, told Bloomberg News. "They just didn't give me enough.''
Arroyo-Maultsby sat through nine weeks of testimony and four days of deliberations at a trial where prosecutors accuse the New Jersey Democrat of trading political favors for bribes from a donor, Salomon Melgen, a Florida eye doctor, who is also on trial. She agreed with defense lawyers who said the men are good friends who had no corrupt intent when Melgen gave the senator gifts such as private jet travel, a vacation in Paris and hundreds of thousands of dollars in campaign donations.

After U.S. District Judge William Walls excused her at the end of the day, Arroyo-Maultsby left the federal courthouse in Newark, New Jersey, and spoke briefly to reporters, creating an uproar by saying the senator is innocent, the prosecutors are corrupt and the jury is divided. She expanded on those remarks in an interview at her kitchen table in Hillside, New Jersey, where she wore her "Juror'' button and sat by a painting of the Last Supper.
Ethics Forms
While she said the jurors are leaning toward acquitting Menendez on the conspiracy, bribery, and honest service fraud counts, she had an ominous observation suggesting the senator may not be in the clear. On Wednesday, she said, all 12 jurors unanimously agreed that Menendez was guilty of making false statements in failing to disclose Melgen's gifts on his Senate ethics forms.
But she said that judgment didn't sit right with her, so she backtracked on that count, the last of 18 in the indictment.
"Last night, I came home very upset because I changed the last verdict to guilty,'' said Arroyo-Maultsby, 61. "Today, it wasn't in my heart.''
When she changed her vote on Thursday, she said, one other juror joined her, leaving the margin at 10-2 for conviction on the false statements count. Judge Walls appointed an alternate juror to take her place, and the group could still change its views when it reconvenes on Monday. A hung jury could result in a retrial, if the government decided to keep pursuing the case.
Puerto Rican
Arroyo-Maultsby, a daughter of Puerto Rican immigrants, is a payroll clerk at NJ Transit, where she has worked for 22 years. She dropped out of high school in Passaic, New Jersey, when she had her first child at age 17, and she later got a general equivalency diploma. She and her husband, Russell, have a blended family with six children, 13 grandchildren and two great-grandchildren.
Justice Department prosecutors, who began investigating Menendez in 2012, failed to impress Arroyo-Maultsby.
"They said that Menendez is corrupt,'' she said. "I think the prosecutors are corrupt. They didn't present everything they should have presented.'' She said it appeared that prosecutors coached witnesses "to make it sound like Senator Menendez did something wrong.''
Menendez, a son of Cuban immigrants, is a leading Hispanic voice in Congress. Jurors heard that Melgen, a native of the Dominican Republic, is his closest friend.
"He's a very good man to be our senator,'' she said. "He cares about his people, and he didn't forget where he came from. He helped a lot of people, not only Dr. Melgen.''
Doctor's Bribes
Prosecutors accuse Menendez of taking Melgen's bribes to help him with a port security contract in the Dominican Republican, visas for three of the doctor's girlfriends, and an $8.9 million Medicare overbilling dispute. The senator says he was driven in his meetings with Medicare administrators, including former Health and Human Services Secretary Kathleen Sebelius, by a desire to clarify a confusing policy and not to enrich his friend.
Arroyo-Maultsby was initially impressed by the prosecution's presentation of lavish photographs of Casa de Campo, where Melgen hosted the senator. But when she saw photos of Melgen's more modest home, she said: "I thought that's not so extravagant.''
Lawyers not involved in the case offered varying opinions on the impact of Arroyo-Maultsby's comments. Attorney Michael Weinstein said it could lead to a mistrial, and the judge will have to question the remaining jurors about whether they saw news reports concerning her comments.
"In a complicated case, this has certainly become more complicated and convoluted,'' said Weinstein, of law firm Cole Schotz. If Menendez is convicted, "this certainly could come up in an appeal.''
Attorney Robert Mintz of McCarter & English LLP said he doubts her comments would affect the trial or any possible appeal.
'Outside Influence'
"A judge would say, 'What goes on inside the jury room should remain among jurors, at least until the end of the case, so they can deliberate without outside influence,''' Mintz said. "But unless those conversations influence the remaining jurors, it's not likely to be an appellate issue.''
Former federal prosecutor Lee Vartan said the comments by the juror offer a well-deserved repudiation of the Justice Department for bringing "such threadbare evidence'' in a criminal case against Menendez.
"If you're going to prosecute a United States senator, you'd better have a letter, an email, a document,'' he said, "something showing a quid pro quo. It makes me wonder who was minding the shop at the Department of Justice.''
After Saturday, Arroyo-Maultsby will be enjoying a wedding on a cruise with her family, and celebrating her husband's 60th birthday. Both are devout Christians.
"I'm praying that Senator Menendez and Dr. Melgen will be found not guilty, that they make the right decision,'' she said.
The case is U.S. v. Menendez, 15-cr-155, U.S. District Court, District of New Jersey (Newark).
Before it's here, it's on the Bloomberg Terminal.
LEARN MORE