Lebanon Demands PM Return From Saudi Arabia as Tensions Rise
By
Aoun says PM's resignation speech from Riyadh 'unacceptable'

Hezbollah chief says Saudi has declared war on Lebanon, group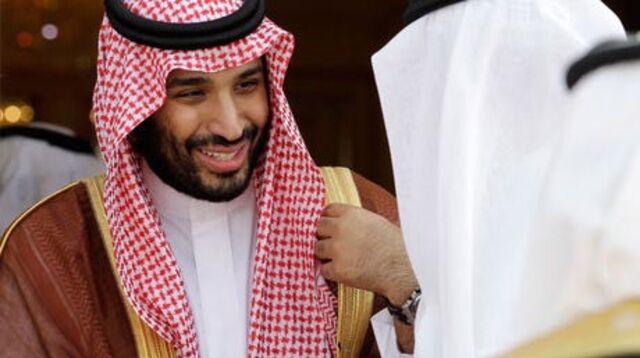 Lebanon's president called on Prime Minister Saad Hariri to return from Saudi Arabia, amid fears his sudden resignation from Riyadh last Saturday was part of a looming confrontation between the kingdom and regional rival Iran.
The way Hariri resigned was "unacceptable," President Michel Aoun told Saudi Arabia's envoy at a meeting in the presidential palace outside Beirut on Friday, according to the state-run National News Agency. Aoun also met with envoys from the United Arab Emirates, Egypt and Jordan. The International Support Group for Lebanon, which includes Russia, the U.S., the European Union and other countries, said it welcomed the demand for Hariri's return.
Lebanon has long been a battleground for proxy wars between Saudi Arabia and Iran. So when Hariri, a pro-Saudi politician, blamed his resignation on Iran's meddling in Lebanon's affairs through its proxy Hezbollah, it fueled speculation that Saudi leaders had demanded he do so and that he wasn't being allowed to go home. Shortly after Hariri's speech on Saudi television, Iran-backed Houthi rebels in Yemen fired a missile at the international airport in Riyadh -- an attack Saudi officials said could be an Iranian "act of war."
Tensions have escalated ever since. Saudi Arabia on Thursday advised its nationals to leave Lebanon, having earlier warned the Lebanese government of the dangers of Hezbollah, accusing the group -- part of the administration -- of being involved in every terrorist attack that threatens the kingdom.
'Declared War'
"It's clear that Saudi Arabia and Saudi officials have declared war on Lebanon, and on Hezbollah," the group's chief, Hassan Nasrallah, an Aoun ally, said in a televised speech on Friday.
U.S. Secretary of State Rex Tillerson said in an interview that Saudi Foreign Minister Adel al-Jubeir had assured him Hariri had resigned of his own accord. Based on that conversation, Tillerson said he understands that the former prime minister -- a dual Saudi and Lebanese national -- would need to return home to formally leave his post.
Asked if Hariri was being held against his will, Tillerson replied, "I have no indication that is the case."
Hariri stepped down at a time when Iran and its allies are widely seen to have won the proxy war against Sunni powers in neighboring Syria. Lebanon has largely avoided the sectarian massacres that ravaged its larger neighbor for more than six years, but the conflict has weighed on its economy, cutting major trade routes and bringing more than 1 million refugees into the country.
'Safety Net'
Things may be about to get even tougher for Lebanon, according to Sami Nader, head of the Beirut-based Levant Institute for Strategic Affairs.
"The safety net Lebanon had is no longer in place," Nader said by phone on Thursday, adding that Lebanon may face the same kind of economic sanctions imposed by a Saudi-led alliance on Qatar since June. "We should expect further escalation from Saudi Arabia against Lebanon."
United Nations Secretary-General Antonio Guterres told reporters he was concerned about the tensions between Saudi Arabia and Lebanon and said he'd been in contact with the leaders of both countries. It's "important to preserve the unity, the stability of Lebanon and the functioning of its institutions," he said.
The U.S. State Department said it opposes any threat to Lebanon's stability, and that Hariri is a "strong partner of the United States." It also echoed the Saudi warnings about Hezbollah's dominant role in Lebanon.
"There is no legitimate place or role in Lebanon for any foreign forces, militias or armed elements other than the legitimate security forces of the Lebanese state," it said in a statement. "The United States cautions against any party, within or outside Lebanon, using Lebanon as a venue for proxy conflicts or in any manner contributing to instability in that country."
Supporting Saudi
Other Gulf nations have been using the missile strike to rally around Saudi Arabia against Iran. Anwar Gargash, the United Arab Emirates minister of state for foreign affairs, called for Iran's ballistic program to be tackled as "an urgent priority" after the Houthi attack on Riyadh's airport.
Asked about the missile, Tillerson suggested the U.S. may bring Iran before the UN Security Council if forensic analysis traces the missile back to Tehran. Supplying such missiles to the rebels would violate Security Council resolutions covering the provision of arms in conflict zones, Tillerson said.
Iran has denied supplying Houthi fighters with missiles, and accused Saudi Arabia of trying to escalate tensions. The U.S. has provided military support for the Saudi-led campaign in Yemen, though the issue has drawn criticism in Congress.
"We've said for a long time that we are concerned about Iranian support for the Houthi rebels and we do know they're supporting them with weapons," Tillerson said. "Whether this specific missile came from Iran, it seems very likely, but I think we'd like to get the final forensics on it."
Saudi Arabia has said the missile has Iranian markings, though its investigation into its origins is still ongoing, U.S. Air Force Lieutenant General Jeffrey Harrigian told reporters in Dubai on Friday.
A Saudi national was kidnapped late Thursday near his home in Adma, about 26 kilometers (16 miles) from Beirut, the NNA reported on Friday, though it wasn't immediately clear if there was any link to the political standoff. Lebanon's Interior Minister Nouhad Al Mashnouq said on Twitter that he was following up on the case.
— With assistance by Kambiz Foroohar, Donna Abu-Nasr, and Nick Wadhams
Before it's here, it's on the Bloomberg Terminal.
LEARN MORE