Judge Approves A$100 Million Aussie Rate-Rigging Settlements
By and
ANZ Bank, National Australia Bank to pay A$50 million each

Westpac is still fighting ASIC allegations of wrongdoing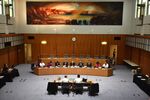 An Australian judge on Friday approved a A$100 million ($77 million) settlement between the securities regulator and two of the country's largest lenders accused of seeking to rig the benchmark bank bill swap rate.
Australia & New Zealand Banking Group Ltd. and National Australia Bank Ltd. will both pay A$50 million each to end the case brought by the Australian Securities & Investments Commission, Justice Jayne Jagot told the Federal Court in Melbourne. The penalties should serve as a deterrent, Jagot said.
"The public should be shocked, and indeed disgusted" by the conduct of the banks, aimed at corrupting a key benchmark in the pursuit of short-term gain, Jagot said. The settlements leave Westpac Banking Corp. as the only bank still fighting the case in court.
ASIC alleged traders at the three banks sought to manipulate the BBSW rate -- used to price more than A$10 trillion in derivatives -- to benefit their institutions' trading positions. The Australian cases came after banks worldwide paid $9 billion in fines for rigging Libor, a practice that scarred the industry's already-tainted reputation in the wake of the global financial crisis.
National Australia said on Oct. 27 it would pay a A$10 million penalty, A$20 million in costs and a donation of A$20 million to a financial consumer-protection fund. It also admitted its employees "attempted to engage in unconscionable conduct" on 12 occasions in 2010 and 2011.
'Expect Better'
ANZ Bank's financial settlement is also split between penalties, costs and a donation, the court heard. In its agreement, ANZ Bank acknowledged it failed to adequately train its traders on BBSW and agreed to initiate an independent expert review of its policy on the benchmark rate. It acknowledged that some of its traders attempted to engage in unconscionable conduct on 10 dates between 2010 and 2012.
"We know our customers and the community expect better from us and we apologize for both the attempted unconscionable conduct and our inability to prevent or detect the behavior," ANZ Bank Chief Risk Officer Nigel Williams said in a statement to the stock exchange.
The big risk for the banks in settling the case is whether any admissions will later be used in other legal actions. The banks have minimized the potential of further domestic suits by only admitting that its traders "attempted" to engage in unconscionable conduct; class actions in Australia rely on the plaintiff being able to show actual losses. Also, neither bank admitted to any attempted breaches later than 2012, and civil claims in Australia typically need to be filed within six years of the alleged breach.
Before it's here, it's on the Bloomberg Terminal.
LEARN MORE