China Says Foreign Firms Won't Be Forced to Turn Over Technology
By
Top party official signals attention to key U.S. complaint

Pledge comes as President Trump prepared to leave Beijing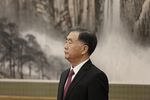 A top Communist Party official said Friday that China won't force foreign companies to turn over technology secrets to gain market access, signaling attention to a key sticking point with U.S. President Donald Trump as he prepared to leave Beijing.
The statement by Chinese Vice Premier Wang Yang, the Communist Party's No. 4 official, was made in an article published in the People's Daily newspaper under his byline. While other Chinese officials have made similar pledges in the past about foreign technology, Wang's statement stands out for the seniority of the person making it and its timing.
Publication of Wang's article came as Trump ended his first state visit with Chinese President Xi Jinping, a trip that yielded $253 billion in tentative business deals, but included no bilateral announcements on lowering market barriers. But within hours of Trump's departure, Vice Finance Minister Zhu Guangyao announced the long-awaited removal of limits on foreign ownership of banks, brokerages and asset management companies in China.
In his article, Wang also pledged to improve the foreign investment environment and treat all companies equally. China will also increase access to its services and manufacturing sectors, wrote Wang, who was last month promoted to the country's top-decision making body, the Politburo Standing Committee.
The issue of forced technology transfers has become more concerning for foreign companies as Xi accelerates the building indigenous rivals and enacts policies requiring the nation's information infrastructure to be "safe and controllable." In August, Trade Representative Robert Lighthizer launched a broad probe into whether Beijing forces U.S. companies to transfer intellectual property, such as regulatory approvals to drug makers who shift production to China or requirements that product designs are replicate in China.
Before it's here, it's on the Bloomberg Terminal.
LEARN MORE