Balance of Power: Why Team Trump Might Not Want a Putin Sitdown
By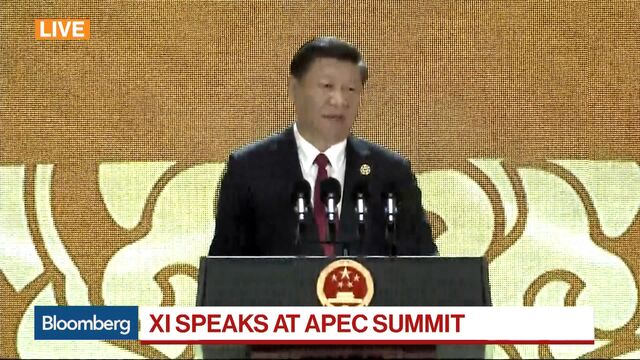 From the White House's perspective, now might be not be the best time for pictures of Donald Trump sitting down with Vladimir Putin.
It abruptly scrapped a planned formal session between them at an Asia-Pacific summit in Vietnam. The meeting would have played out against the backdrop of Trump's former campaign chairman being indicted, and special counsel Robert Mueller's probe of Russian election meddling moving ever closer to the U.S. president's inner circle.
Trump advisers cited a scheduling conflict and U.S. concerns that the meeting wouldn't create genuine progress on key issues. They held out the possibility that the two leaders could still "bump into each other and say hello."
The news came a day after Trump met with Chinese President Xi Jinping over many of the same questions he would have discussed with Putin, notably how to rein in North Korea's nuclear ambitions.
The Kremlin, which as recently as yesterday had been signaling that it was hoping for a full-scale sit down, was clearly disappointed. Spokesman Dmitry Peskov bemoaned "conflicting information" and said it's "hard to overestimate the importance and significance of any contact between the president of Russia and the United States for all international matters."

Sign up to receive the Balance of Power newsletter in your inbox, and follow Bloomberg Politics on Twitter and Facebook for more.
Global Headlines
Dueling visions | Xi and Trump laid down divergent blueprints of what the 21st Century economy should look like at the summit in Vietnam today. The Chinese leader pledged a new era of globalization propelled by his nation's economic might and Trump offered America's largesse only to those who play by his rules – the clearest indication yet of how the world's most powerful players will try to shape the future.
Lebanon warning | Saudi Arabia has advised its nationals to leave Lebanon because of "the situation" there, fueling fears of a confrontation with Iran in a country known for being a battleground for proxy wars in the Middle East. Read more about why the Saudi crown prince leading the kingdom's foreign strategy is upending a historical power structure. And for a look at how a shared enemy - Iran - could bring Saudi Arabia and Israel closer, click here.
Elephant in the tax room | House and Senate Republicans' dueling tax plans both contain nearly $1.5 trillion in red ink in the first 10 years. Sahil Kapur examines the challenges that arise with a House floor vote and a Senate committee vote planned for next week and details the differences between the two chambers' proposals.
Back to Brexit | After a chaotic week in which she lost two ministers, Prime Minister Theresa May sought to show she was back in control and setting boundaries. Britain, she wrote in the Daily Telegraph, will officially leave the European Union at 11 p.m. on March 29, 2019. But the man who played a key role in drafting the withdrawal clause says the country can still back out and the Irish threw a wrench in the works by demanding the border stay open.
Moore trouble for Republicans | Trump, Majority Leader Mitch McConnell and other top Republicans say Alabama Senate candidate Roy Moore should withdraw from the race if it's proven that he initiated a sexual encounter with a 14-year-old girl almost four decades ago. On the heels of Republican losses in state and local elections this week, the development further emboldened Democrats hoping to make gains in next year's midterms.
And finally... Country music is generally a safe place for Republicans. Not so for Donald Trump at this year's Country Music Awards where hosts parodied Trump's Twitter habits. "It's fun to watch for sure, 'til little Rocket Man starts a nuclear war. Maybe next time he'll think before he tweets," sang Carrie Underwood and Brad Paisley -- who performed at Obama's second inaugural. Trump supporters lambasted the performance on Twitter, and a host of Fox News's Fox and Friends, one of Trump's favorite shows, asked "isn't country music supposed to be conservative?"

Before it's here, it's on the Bloomberg Terminal.
LEARN MORE