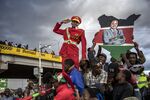 After two presidential elections within three months, Kenya's highest court has declared incumbent Uhuru Kenyatta the legitimate winner of the second vote on Oct. 26. But that hasn't resolved the matter for the political opposition. "We consider this government to be illegitimate and do not recognize it," said Salim Lone, an adviser to Kenyatta's opponent, former Prime Minister Raila Odinga. The election period has been marred by violence and intimidation that the ruling party and opposition blame on each other. Protracted turmoil in East Africa's largest economy would be felt across the region, particularly in landlocked Uganda and Rwanda, which rely heavily on Kenya's ports and roads to access international markets.
1. Why two elections?
The first election, Aug. 8, provoked complaints of rigging, which prompted the Supreme Court to annul a victory by Kenyatta and order a new vote. When the electoral commission failed to make changes Odinga considered necessary to ensure a fair vote, he withdrew from the Oct. 26 rerun and urged a boycott. With turnout just 38.8 percent of voters, compared with 79 percent in August, Kenyatta was declared the winner with 98 percent of the ballots. That result was also contested in the Supreme Court by a former lawmaker and two activists.
2. On what grounds?
First, that because violence forced voting to be called off in parts of western Kenya, the balloting violated a constitutional requirement that the election be held in every constituency. Second, that the electoral commission flouted the constitution by failing to hold fresh nominations for candidates. The Supreme Court rejected both challenges.
3. What is Odinga's strategy now?
Since the second vote, he's focused on energizing what he calls a national resistance campaign of protests and economic boycotts of companies that, according to his alliance, back Kenyatta's government. These include Safaricom Ltd., the region's biggest mobile-phone operator, and Brookside Dairies Ltd., which is partly owned by Kenyatta's family.
4. How grave is the violence?
After Odinga alleged rigging in August, his supporters burned tires and barricaded roads in Nairobi, the capital, and the western city of Kisumu, sparking clashes with security forces. Renewed protests broke out on Oct. 26 and continued for several days. More clashes erupted in Nairobi in advance of the Supreme Court's second ruling. While human-rights groups say as many as 92 people have died in election-related violence since the initial vote, police say they've only recorded 26 deaths. Ethnic unrest that followed a disputed election in 2007 illustrated just how ugly the situation can get: At least 1,100 people died and about 350,000 were forced to flee their homes. The economy also took a hammering, with the growth rate slumping to 1.7 percent in 2008 from 7.1 percent a year earlier.
5. How have the markets reacted?
While the shilling weakened and yields on Kenya's foreign debt climbed after the Supreme Court ordered fresh elections, shares on the Nairobi Securities Exchange rallied after the court verified Kenyatta's victory. The benchmark FTSE NSE Kenya 25 Index climbed 1.4 percent to the highest close since Sept. 22. At the same time, the prolonged uncertainty has curbed consumer spending and investment, prompting Kenya's National Treasury and the International Monetary Fund to pare back their growth forecasts.
6. What is Kenyatta's record?

Kenya's economy has expanded an average of 5.7 percent a year since 2013, when Kenyatta came to power, as the country reaped the benefits of lower energy prices and improved transportation links. Kenyatta's government has also spurred growth by encouraging the development of the tourism, agriculture, services and manufacturing industries, and made some headway in improving access to education and health care. His opponents accuse him of not doing enough to cushion the poor from a drought and soaring food prices and failing to stamp out widespread corruption. Kenya dropped six places in Transparency International's Corruption Perceptions Index last year, putting it among 30 countries seen as the world's most corrupt.
7. How will the election controversy affect him?

Given that fewer than half of voters participated in the election extending his rule, his mandate for change is likely to be challenged. Also, he now governs a country so politically divided that some are advocating independence for regions that support the opposition.
The Reference Shelf
Before it's here, it's on the Bloomberg Terminal.
LEARN MORE