Why Is U.S. Wage Growth So Low? It's All About the Top 80%
By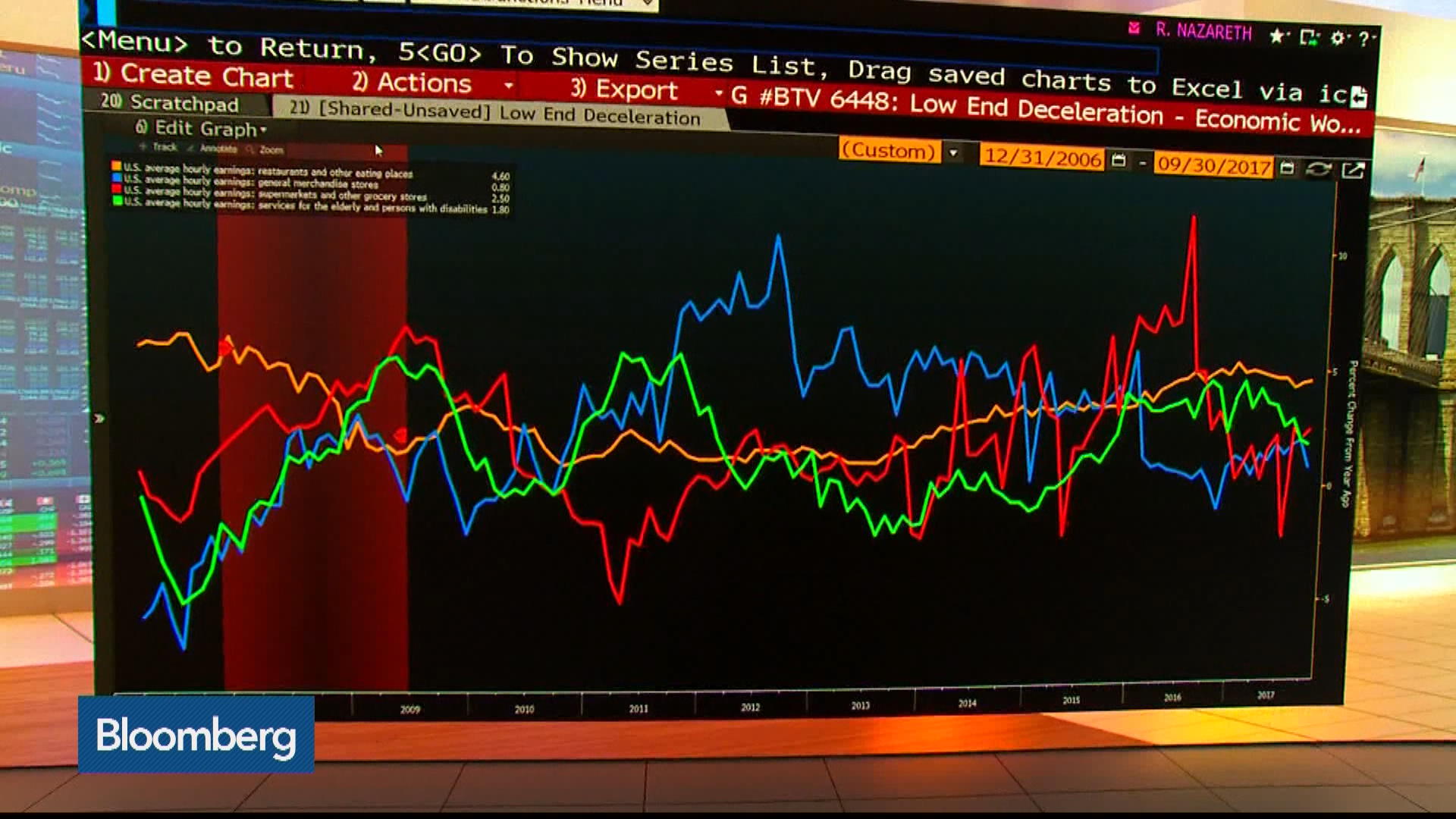 Comparing wage growth in 2017 to 10 years ago, when pay was rising at the fastest rate of the previous expansion, shows a tale of two labor markets -- or maybe five.
The bottom 20 percent of workers by average industry pay are seeing significantly faster wage growth now than they were then. Yet the shortfall in the upper 80 percent has been large enough to keep overall pay growth almost a full percentage point lower.
A closer look at the lowest-paid cohort, along with the four that make up the top 80 percent, provides some insight into the puzzle of why pay gains remain sluggish even with the unemployment rate at a 16-year low of 4.1 percent. For the calculations, Bloomberg ranked 303 distinct Labor Department industry categories by hourly pay and then produced five quintiles of average wages based on the industries' share of total employment.
1. Rising at the Bottom
The lowest 20 percent of earners are most likely to work at places like restaurants, general merchandise stores (think big-box retailers), grocery stores, or businesses that provide care to the elderly and disabled.
All of these have contributed to the big boost in overall wage growth at the low end compared to 10 years ago, but none are currently seeing the fastest pace of increases of the expansion. Moreover, the reason why they account for so much of the boost is that these categories were experiencing unusually low wage growth 10 years ago.

While the improvements are encouraging, they don't necessarily indicate a labor market so tight at the low end that wage increases are spiraling out of control.
One industry in particular stands out, however: security and armored car services. The average hourly wage paid out by those businesses was up a whopping 23.6 percent in September from a year earlier, and accounts for a significant amount of the increase in wage growth at the low end.
2. Stalled Gains
Wage growth in industries that employ the second quintile of earners rose to close to the fastest rate of the expansion in September, but still remains about a percentage point below where it was 10 years ago, and hasn't seen much acceleration in the last two years. The biggest employers in this group are temporary-help agencies, companies in the business of providing traveler accommodation (mostly hotels), nursing care facilities, food manufacturers, and home health care service firms.

While wage growth for temp workers hit 5.1 percent in September -- the highest of the expansion so far -- it still has a way to go to reach the 6.8 percent rate in September 2007. The other big categories in the second quintile have all seen a significant deceleration in wage growth over the last year or two.
3. Moving Sideways
Wage growth in industries that employ the middle quintile of earners is a bit below where it was 10 years ago, and doesn't look like it's going anywhere fast. The trend over the last decade has been more or less sideways for this group, despite big swings in the economy. The largest employers here include manufacturers of various kinds of durable goods, companies that provide transportation and warehousing services, and new-car dealers.
4. Higher, Slower
In the fourth quintile, the recent acceleration in wage growth -- to the fastest pace of the expansion in September -- has been encouraging, but the overall rate of pay increases in that group is still about 0.9 percentage point below where it was a decade ago. The biggest employers here are hospitals, membership associations and organizations, manufacturers of transportation equipment (cars and trucks, aircraft, boats, and everything in between), and commercial banks.

5. More Pay, Less Growth
Industries that employ the top quintile of earners is where the biggest shortfall in wage growth versus 10 years ago can be found. These include many white-collar professions -- the biggest employers are doctors' offices, managing offices, computer systems firms, consultants, computer manufacturers, law firms and engineering firms. While many of these industries haven't seen much acceleration in wage growth throughout this expansion to begin with, lately it's been decelerating.

It's always nice for workers when pay is rising faster. Yet despite a low unemployment rate, there is nothing obvious in the wage data to suggest it will soon explode higher. That means the Federal Reserve will probably stick to its plan for gradual interest-rate increases instead of stepping up to a faster pace that could put the economic expansion at risk.
Before it's here, it's on the Bloomberg Terminal.
LEARN MORE