Venezuela's PDVSA Makes $1.1 Billion Overdue Bond Payment
By , , and
'I'm here doing cartwheels,' says bondholder Ray Zucaro

Venezuela still behind on more than $500 million of payments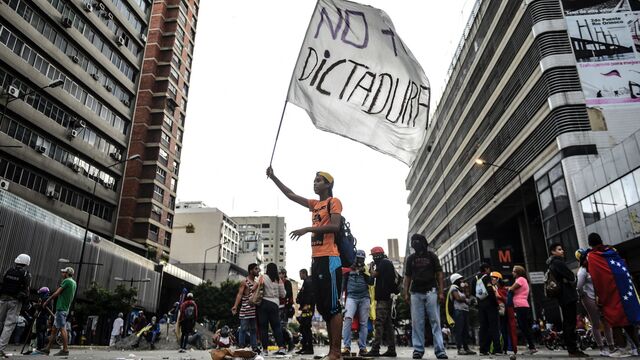 Venezuela's state oil company came through with an overdue $1.1 billion principal payment, sending another signal to investors that the cash-strapped country intends to stay current on its obligations even as it seeks debt relief.
Multiple banks with clients who hold the Petroleos de Venezuela notes, which came due Nov. 2, were told by the Depository Trust Company that the bonds were paid Thursday, according to people with knowledge of the matter. Two investors, who also asked not to be identified, said they received the funds. PDVSA didn't pay the interest that was also due on the notes, the people said. A spokesman for DTC declined to comment.
The payment comes a week after President Nicolas Maduro announced that the nation would embark on a global restructuring after paying the PDVSA bond. While officials have since said they plan on continuing to honor obligations after creditor talks commence, the considerable delay on the payment due last week -- as well as on over half a billion dollars in other interest payments -- spurred concerns that the country would stop servicing its debt.
"I'm here doing cartwheels," said Ray Zucaro, the chief investment officer at Miami-based RVX Asset Management, who owns PDVSA's 2017 bonds. "After these last two weeks, I think I'm going to take a break and deal with less stressful names like Zimbabwe, Angola and Ukraine."
Venezuela is hardly out of the woods yet -- the 30-day grace period on an overdue $28 million interest payment for power utility Elecar expires Thursday, while the buffer periods on several missed sovereign and PDVSA bond coupons comes to an end over the weekend. Monday will be a "critical date" for the nation, according to Moody's Investors Service.
Investors who bought insurance against a default by PDVSA asked an industry panel Wednesday to decide whether the overdue payment constituted a failure-to-pay event, which would trigger credit-default swaps. The panel will hold its first meeting on the matter Friday.
Moody's lowered PDVSA's rating to Ca, its second-lowest level, on Nov. 6, citing the overdue payment and the expectation that the company will default on other debt in the near term.
Before it's here, it's on the Bloomberg Terminal.
LEARN MORE