U.S. Stops Trying to Count Puerto Rico Customers Without Power
By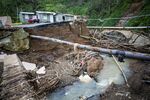 The U.S. Energy Department, which has been issuing regular reports on the efforts to restore power in Puerto Rico, just stopped releasing estimates on the number of customers who've gone without electricity since Hurricane Maria devastated the island more than a month ago.
The decision comes just days after a debate over Puerto Rico Electric Power Authority's estimates erupted on Twitter, with media outlets including CNN questioning exactly how much of the island remained in the dark. 

In explaining the change to its biweekly report Thursday, the agency said Puerto Rico's utility hasn't been able to give estimates on actual customers without power. It is instead estimating the amount of electricity restored as a percent of the island's peak load. That figure isn't "a direct proxy for the number of customers restored" because many of the critical facilities that were initially restored such as hospitals "draw a higher load than residential customers," the department went on to say.
In other words, the percentage of load restored could be higher than the number of homes that actually have their lights back on.
As of three days ago, the Energy Department was still estimating that 907,342 customers, or almost 58 percent of total homes and businesses, were without power on the island. The agency said in an emailed statement Tuesday that it was coming up with the count based on Prepa's peak load figures.
"It's not the way it is done at all," said Matthew Cordaro, who once led the agency that runs the U.S. Midwest's power grid. "The primary determination is you know how many of your distribution lines ultimately go to the customer, how many of them have been restored. ... You don't look at what's being generated and put out on the grid. But it's a mess there."
Before it's here, it's on the Bloomberg Terminal.
LEARN MORE